It took 30 days to write again. Busy me.
Umar Hidayat Syah
Nama yang diberikan kepada adik Amir Hidayat Syah. Kami tertarik dengan keperibadian Umar Al-Khattab yang merupakan khlaifah ke-2 Islam. Furthermore, kami prefer nama yang ringkas dan singkat supaya mudah dipanggil dengan nama penuh dan bukan nama singkatan.
Umar is a tiny baby. His birth weight is just 2.4 kg. Haluusss aje.. Bila pegang pun tak terasa. But I can say he is much a calmer baby compare to his brother. Kalau menangis pun tidak lah sekuat Amir dulu, so Ami and I pun lebih rileks kali ni, tak la terkejar-kejar macam dulu ;p And maybe dah second child so dah ada experience in handling a baby. But then again, we both have to experience another jaundice baby. Actually, ini lah salah satu pekara yang kalau boleh I nak elakkan tapi macam mana kan.. The issue is, though jaundice is common, both of my son reading jaundice reached 300. Yes, Umar pun jaundice nya tinggi, lebih merisaukan dia ialah premature baby dan berat cuma 2.4kg. Meaning bilirubin yang reading-nya mencecah 300 tu terlalu tinggi for him. Read cerita jaundice Amir
here
.
Pada petang hari ke-3, kami dah perasan muka Umar dah nampak kuning. Risau bukan kepalang. What I have prepare earlier, I survey service yang menyewakan mesin fototerapi ke rumah. Luckily I dah save the number. Called the person and he deliver on the same day, late evening. Siap aja setup, kami terus tidurkan Umar bawah lampu. So bermula pada hari ke-3, I and Ami dah jadi macam nurse handle Umar. Make sure dia minum every 2 hours then sambung tidurkan Umar bawah lampu, dari pagi sampai ke malam sampai ke pagi keesokannya. Hari ke-4, kami ke klinik kesihatan untuk check darah. Memang tinggi kuning Umar, 285. Risaunya Ya Allah. Again, balik rumah dan terus buat intensif treatment for Umar. Hari ke 5, reading Umar turun ke 278. Tapi masih tinggi. We went back and sambung phototreatment.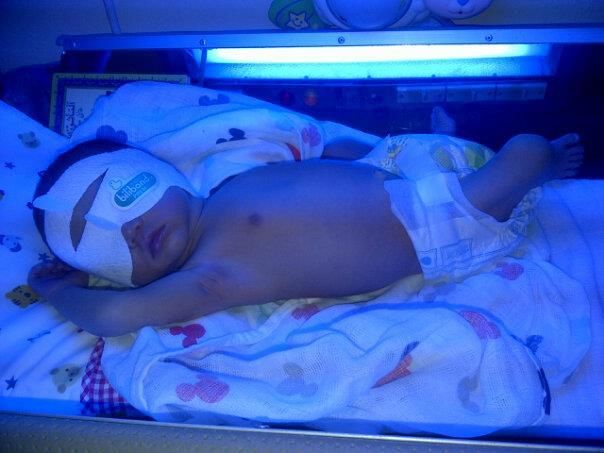 Treatment at home
Hari ke 6, my instinct jaundice Umar mungkin makin tinggi. Instead ke klinik kesihatan, we decided to go to Columbia Asia Hospital - nearer, convenient (tunggu turn di KK bersama-sama warga asing yang lain = Headache), somehow I rasa ni confirm kena admit)
And mommy was right! His bilirubin reading was 312! Huhuhu And doctor advised untuk admit Umar. Mommy cried. Well, I don't know. I tau jaundice is common, ada ibu-ibu lain yang kene berhadapan dgn condition anak mereka yang lebih teruk. I know treatment jaundice pun bukanlah scary mana except for kene cucuk ambil darah hehe I know adalah lebih baik Umar dapatkan this tretament with supervision by paed. I know.. i know... Tapi sedih okay, dah 6 hari mommy mandikan, susukan, tidurkan tiba kena-kena berpisah sementara. It was just my separation anxiety. He he he
Sampai nurse tanya "anak first ke?" Anak first ke, no 5 ke.. sure ibu sedih nak tinggalkan anak di hospital. I know some other hospitals allow mother to stay with baby. Tapi di Columbia Asia, jaundice baby akan diletakkan di nursery - that is where all the equipments are located - ibu boleh stay or datang at anytime to feed tapi cuma ada kerusi sahaja in the nursing room. Luckily we chose this hospital sebab 15 minit aja dari rumah. So, pantang ke hapa entah ke mana, ulang alik ke hospital to feed and hantar susu for Umar.
Bermakna dalam masa seminggu selepas Umar lahir, memang tak dapat setel down dan kami always on the go, ke sana ke mari nak selesaikan issue jaundice Umar. Sepanjang masa ni, memang tak dapat nak tidur lena pun. Maka, ini hasilnya ...
Super exhausted. Sehari tak cukup tidur, mungkin masih okay.. If seminggu tak cukup tidur?? Tanyalah mamat ni.. ;p
Hari ke-7, reading jaundice Amir turun ke 202. Alhamdulillah. Turun sampai 100 tu sangatlah menggembirakan hati mommy. Pernah satu kali masa Amir dulu, satu hari suntuk duduk bawah lampu, turun 3 sahaja. Ya, 3 sahaja! Memang nangis. Paed still advise suruh stay satu malam supaya reading jaundice turun lagi so that lebih selamat.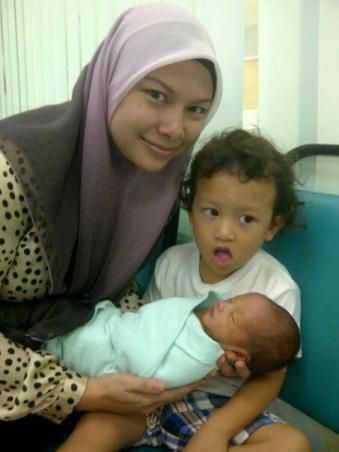 At nursery
Hari ke-8, reading jaundice turun lagi 137. Yeay, Umar boleh balik!!
Fuh! Kalau dulu berdua berkongsi kepenatan, sekarang bertiga. Amir pun tak nak ke rumah babysitter sebab tau mommy bukan go to work, so kami bawaklah dia ke hulu ke hilir.

More entries to post.. mommy really needs extra hands!


p/s: Umar is ONE MONTH old now! His weight is 3.7kg.. Yeay, quite an achievement =)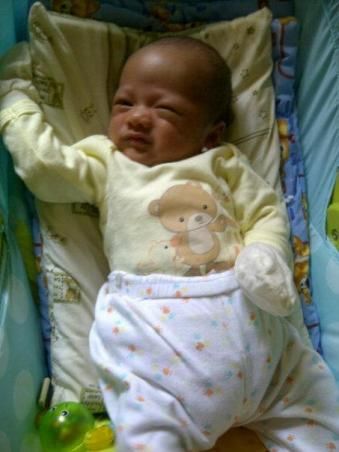 Amir is such an entertaining brother.. Dah banyak sangat membebel, sometimes we are impressed with how he can reply you back. He always makes me laugh. Loya buruk like myself, what I always do to my husband.. sekarang Amir pulak loya buruk dengan mommy. So much love in the house right now :) Precious gifts from Allah to us.
Heroes
Amir sedang menghiburkan si adik..
"

Hot dog, hot dog, hot diggety dog Now we got ears, it's time for cheers Hot dog, hot dog, the problem's solved Hot dog, hot dog, hot diggety dog

"