This vacation was a last-minute decision. Since January, baru la ni dapat nak apply cuti sebab kelas mengajar dah habis, sekarang study week. Itupun before cuti, we both pulun habis-habisan bekerja so that cuti tak kena kacau --> menyebabkan kami gagal membuat keputusan lebih awal.
At first, memang dah decide nak ke Pangkor, tapi kebanyakkan review kami dapat pasal pangkor kurang menarik and ramai kata we should go Tioman. Then study pasal Tioman, not bad! Tapi bila nak book resort, semuanya full gara-gara Singapore pun holiday last Friday, Good Friday.
Habis dah idea kami kat situ. Hari Khamis, as we discussed kitaorang rasa macam stay KL saja lah. Dan berjalan-jalan di kawasan sekitarnya. As mak semangat dalam apa jua plan / initiative / event, saya pun study pasal tempat-tempat untuk dilawati di Kuala Lumpur.
Khamis malam, time dok chatting dengan Ami, we changed our mind - we should get the hell out from KL! There you go, call salah satu resort di Pangkor, ada bilik kosong, and reserved! Fuh. Bags semua tak packing, kereta tak service lagi.. tak ready satu apa pun. But, that was it...
Hari Jumaat pagi, around 8am barulah siap packing...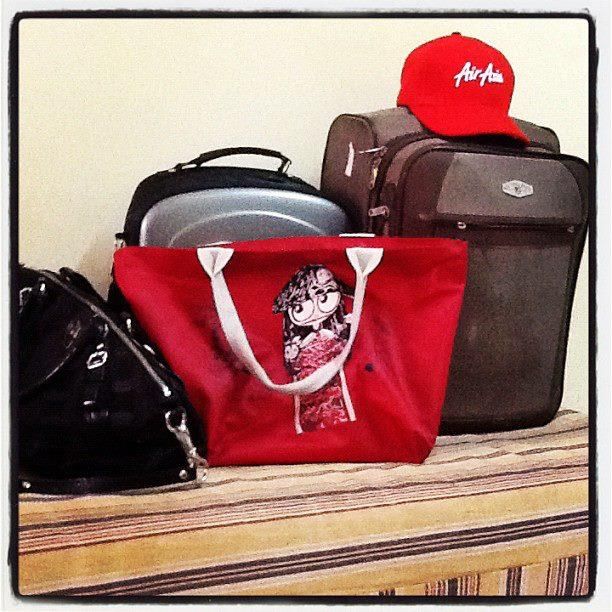 We're ready to go!
Dalam pukul 9 kami keluar dari rumah, nasib baik kedai service kereta depan rumah dah buka. In the meanwhile, kami pergi breakfast dulu..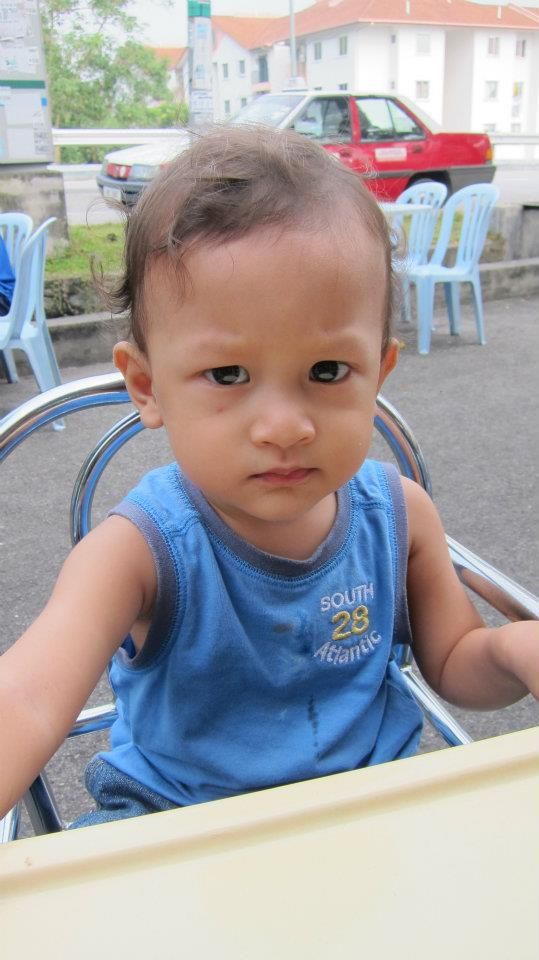 Dan perjalanan kami pun bermula pada jam 10am...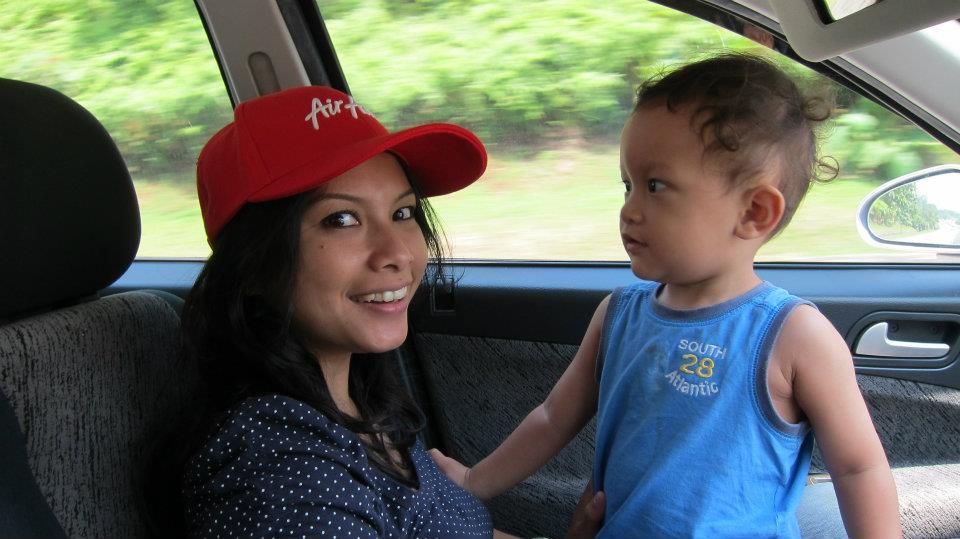 Perjalanan ke Jeti Lumut ambil masa dalam 2-3 jam, tapi kami ada juga stop supaya Amir dapat meregangkan badan bagi mengelakkan suasana tegang di dalam kereta.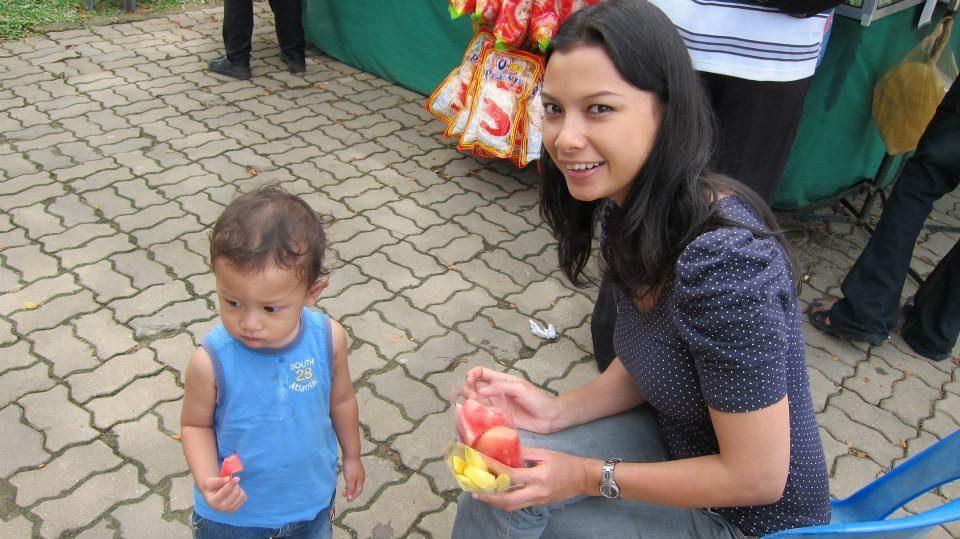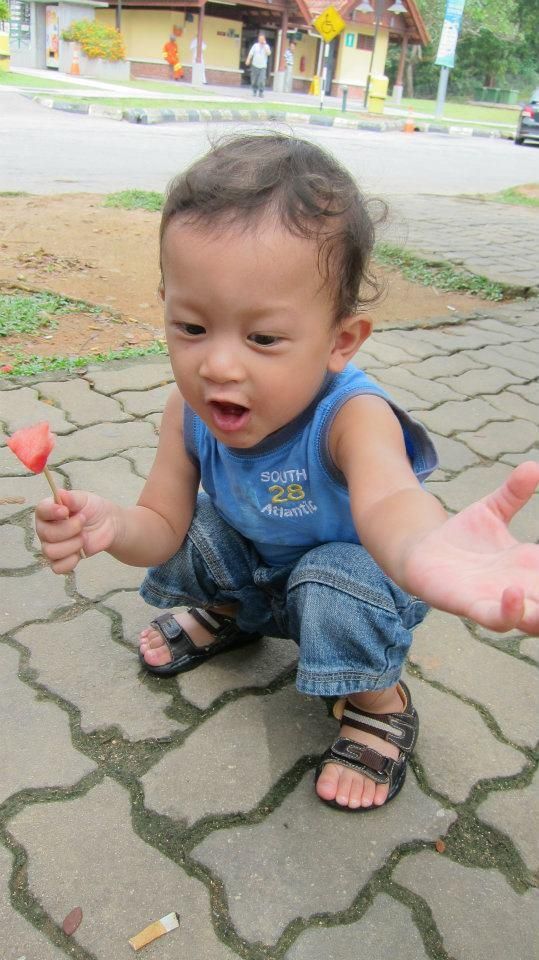 Bukan main happy kalau main dekat luar
Selepas exit Gopeng, kami stop lunch di Seri Iskandar, sempat jumpa my youngest brother di UTP.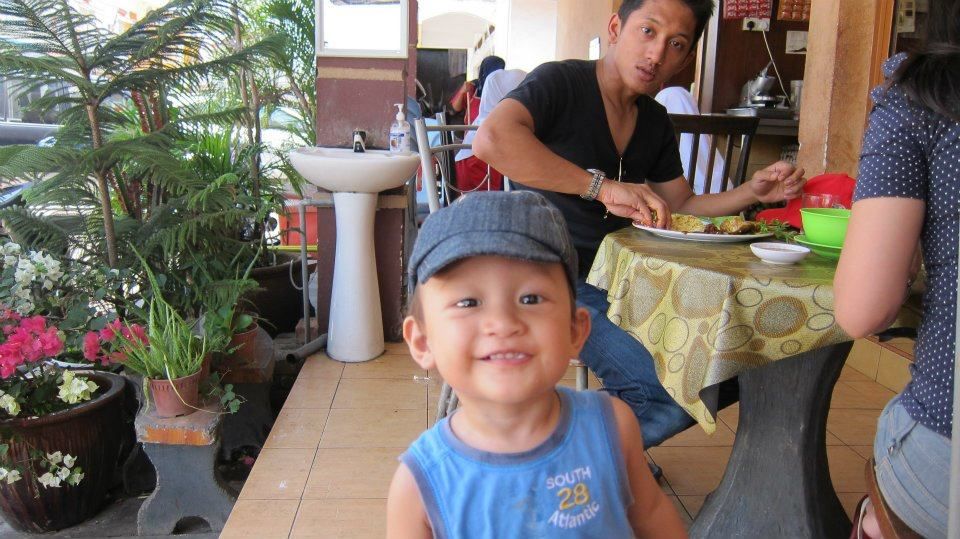 Sambung semula perjalaan ke jeti. Siap ada silap jalan and managed to arrived at Jetty Lumut around 3-ish. Kereta kami parking di parking bertingkat bersebelahan jeti. Parking rate ialah RM10 setiap 24 hours.
Jeti Lumut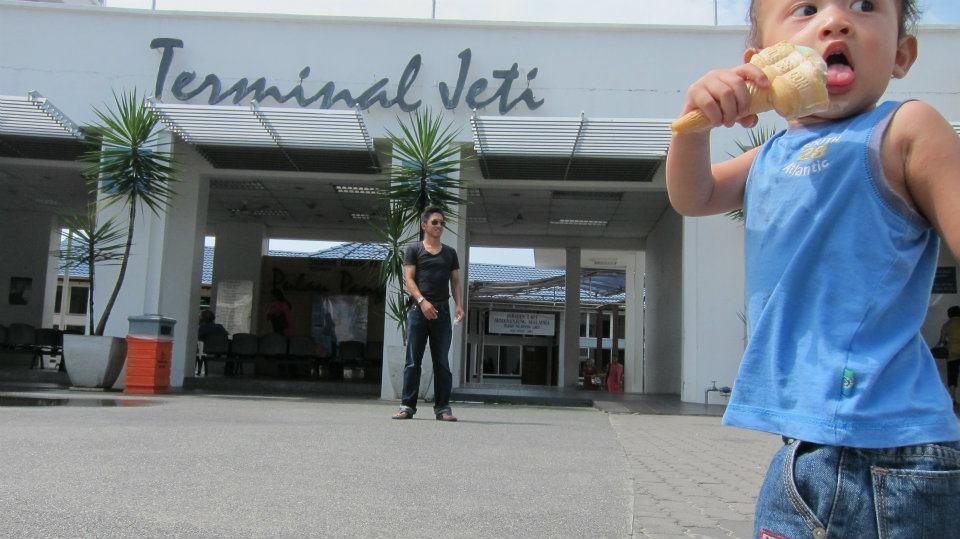 Sementara menunggu feri, melayan Amir main. Dah ler panas, tapi mamat ni selamba je berlari ke hulu ke hilir. We have to take turn huhu
Tambang feri ialah RM10 per pax, pergi balik. So simpan tiket untuk tunjuk masa nak naik feri bila balik nanti.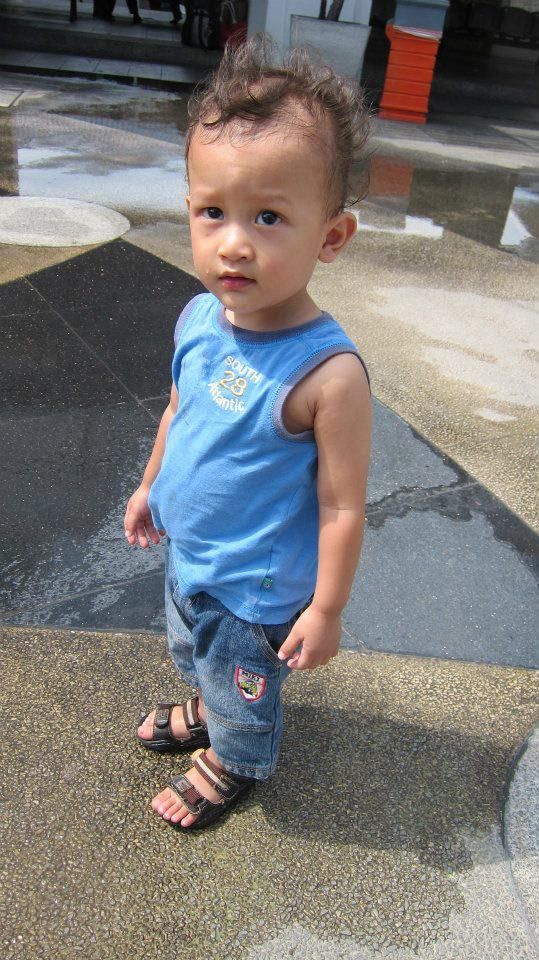 Amir had so much fun bila naik ferry, especially boleh main di roof top ferry instead of duduk dalam je.. Mula lah adrenalin beliau dirembeskan. Mommy yang seriau.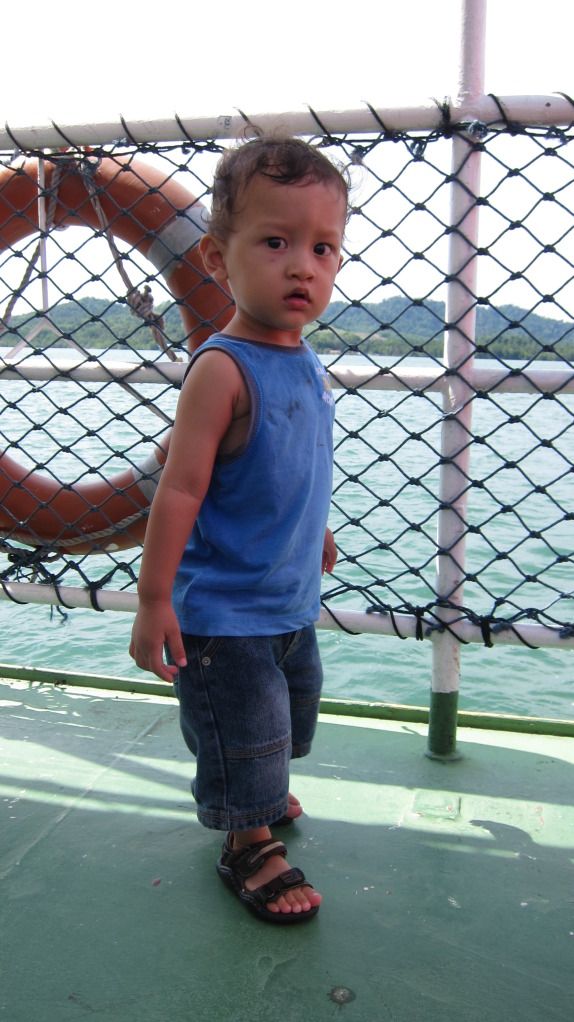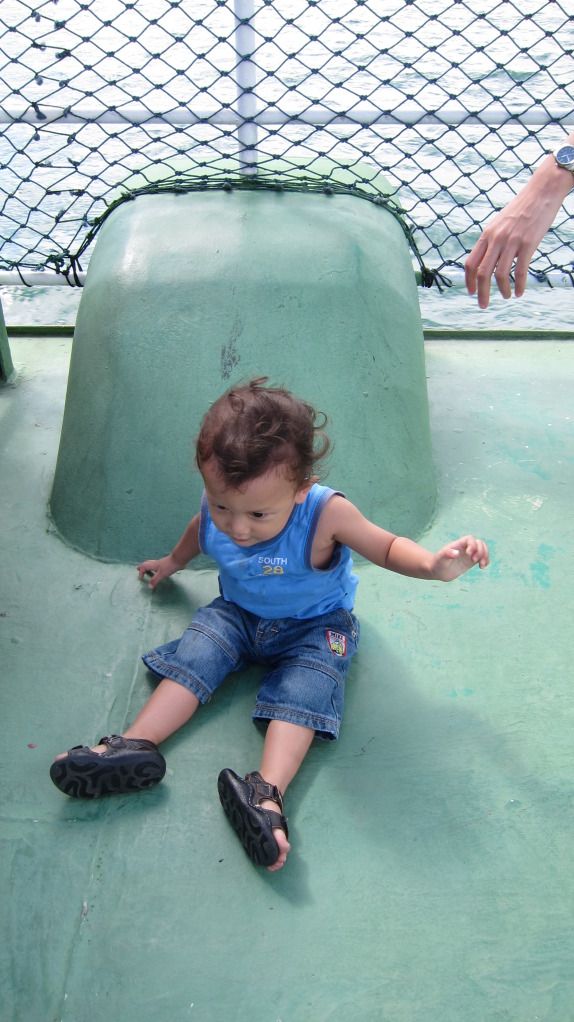 Sliideeee... Weee..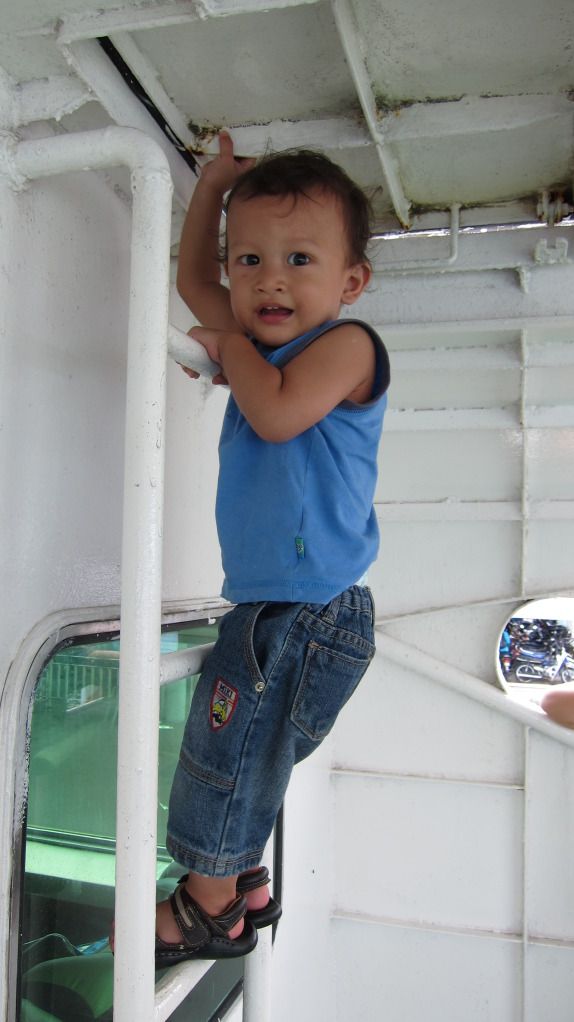 "kak.. kak.." Bukan kakak tapi dia suruh bukak.
Kurang dari setengah jam, kami pun tiba di Jeti Pulau Pangkor. Bila sampai di sini, ramai lah local people welcome anda dengan service yang mereka offer - sewa motor, chalet, resort, aktiviti di Pangkor island etc.
Kami terus aje ke van pink - yup, inilah rupa taxi di Pulau Pangkor. Cost untuk ke Teluk Nipah dari pekan Pangkor ialah RM20, tapi masa nak balik dari Teluk Nipah ke pekan cuma RM15. Driver taxi pun offer kalau nak pusing-pusing island for RM60. Tapi, kami tak ambil pun. Plan nak sewa motor and pusing-pusing sendiri. Dari pekan ke Teluk Nipah kurang dari 10KM, melalui Pasir Bogak terlebih dahulu.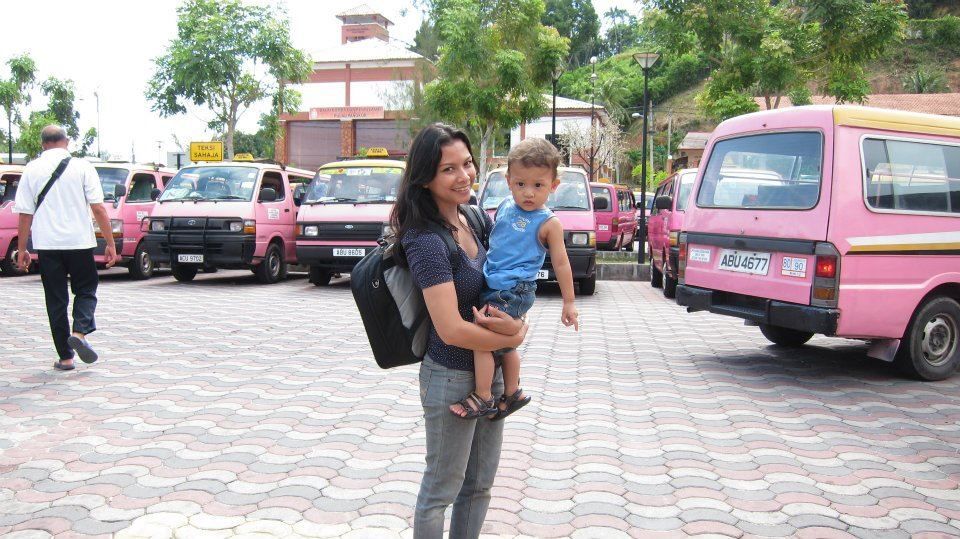 Kami bermalam di
Purnama Beach Resort
, Teluk Nipah. Harga chaletnya pun okay dan sangat dekat dengan pantai. Basically kat kawasan ni banyak lagi chalet2 lain, rate nya average and affordable. Chalet-chalet tu pulak bersebelahan je antara satu sama lain. Boleh tengok klik
sini
untuk chalet-chalet yang lain. Kalau ada budget lebih and nak bermalam di hotel yang lebih baik grade-nya, boleh cuba
Anjungan Beach Resort and Spa
.
Purnama Beach Resort
Sampai di chalet, kami berehat-rehat dulu. Lepas maghrib barulah keluar tengok2 pantai and dinner. Pasal makan, kat kawasan ni tak perlu risau. Sepanjang jalan di tepi pantai ada kedai makan. Harga pun berpatutan.
Dapat pulak seat betul2 menghadap pantai.. Layan!
Rasa makannya pun boleh tahan.. Happy customer.
Waktu malam di Pulau Pangkor memang tak banyak aktivti. Ada jugak dengar orang berkaraoke. Tapi, macam tu lah bercuti di pulau kan, more to relaxing.
The very next day, kami mulakan dengan aktiviti hari itu dengan MAKAN. Actually di resort-resort kat sana kebanyakkannya ada cafe. Tepi-tepi pantai pun dah orang menjual starting from breakfast.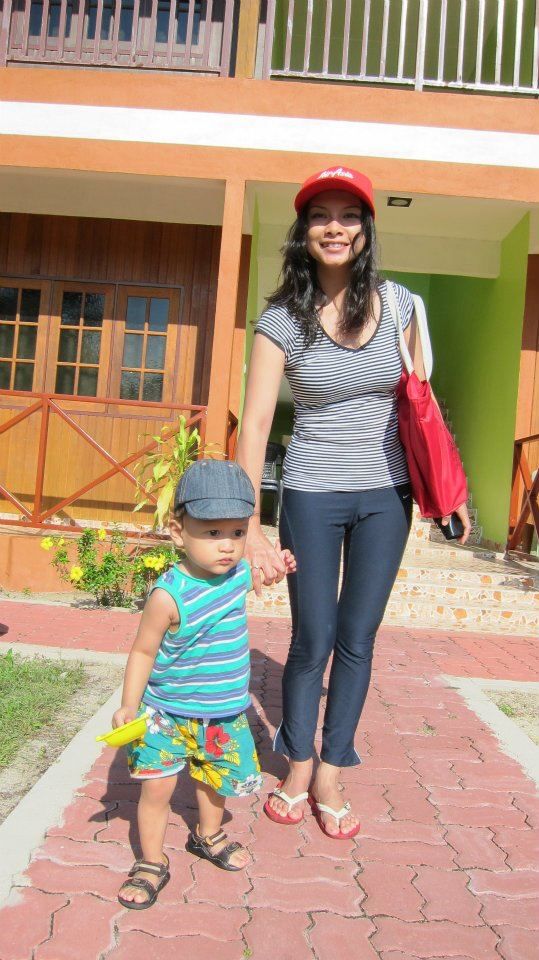 Selepas breakfast, kami survey aktiviti untuk haritu. Antara aktiviti yang available; boat trips, watersports, snorkelling etc. We chose to go for a boat trips. Berbeza dengan island lain spt Langkawi & Sabah, kat sini takde island hopping where you can to more than 2 islands per trip. Tapi di Pangkor, they called it boat trips di mana nanti diorang bawa lah kita ke 2 island dan 4 pantai - lebih kurang macam tu lah pakejnya. Kalau group besar boleh lah naik boat yang ada atap tu, tapi kalau 2-4 orang naik speed boat aje lah. Boat besar - RM120, speed boat - RM60. Tawar punya tawar dapat lah RM50.
Yang lagi best, lepas dari boat trips, petangnya tu saja jalan-jalan tepi pantai and gatal mulut tanya boat trips tempat lain pulak, RM40 je! Ces ces betul.
Kami berpeluang ke Teluk Man - boleh bermandi-manda di sana, coral beach, monkey bay dan ada lah 1-2 tempat yang tak ingat lah apa beach boy tu cakap... ;p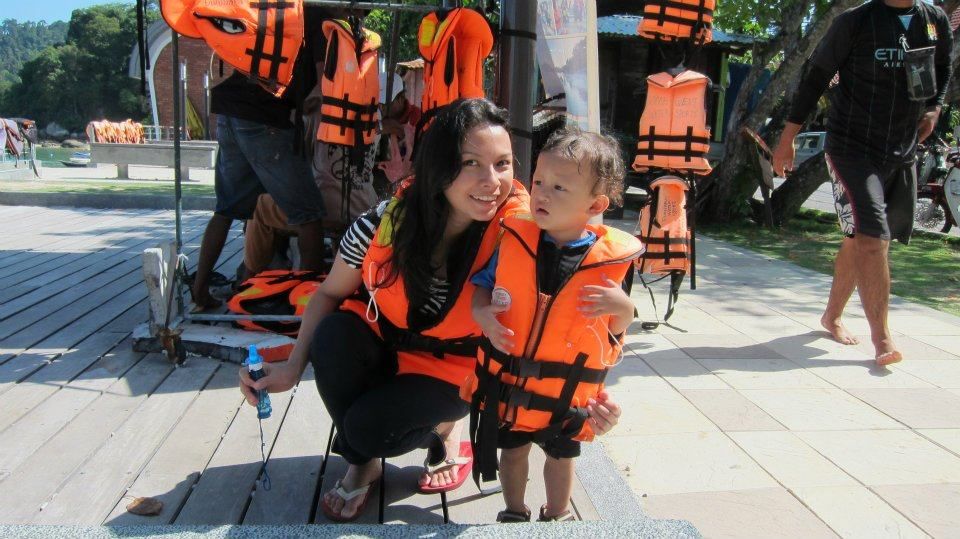 Ready to go!
I bet Amir sedang enjoy naik bot! Tapi dia bising nak bukak life jacket.
First stop di Coral bay. Kat sini kita duduk atas bot, nanti beach boy tu akan tunjuk landak laut, coral pada kita.
Landak laut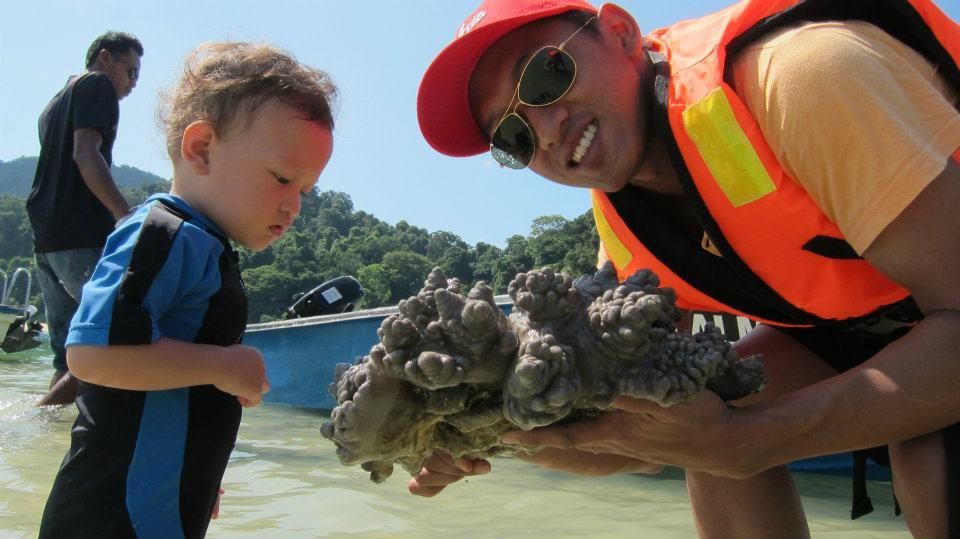 Kalau nak turun dari bot pun boleh, airnya pun cetek saja.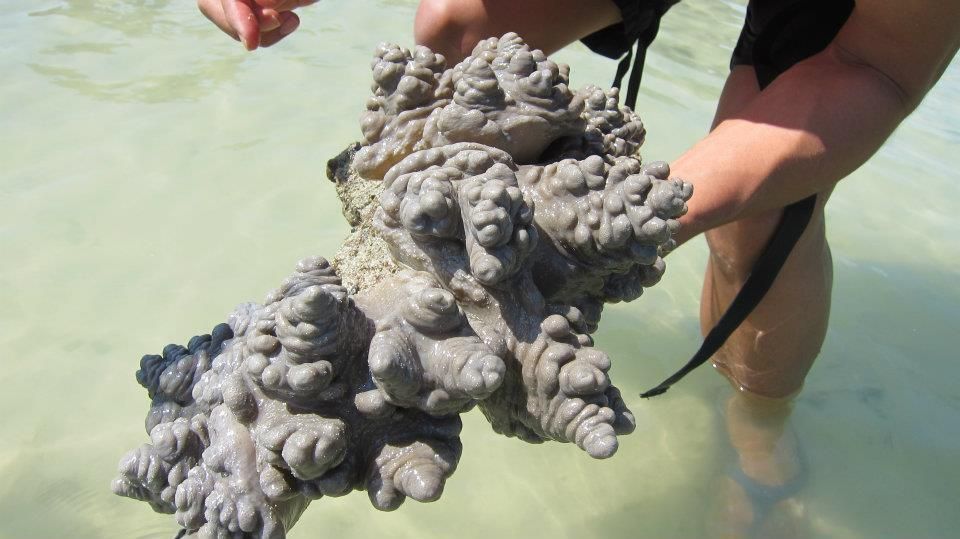 Next stop, basically tengok-tengok saja.. ada batu bentuk kepala paus, bentuk buaya, bentuk penyu etc.. baka kata beach boy tu, kami iya kan aja.. padahal tak berapa nak nampak pun ;p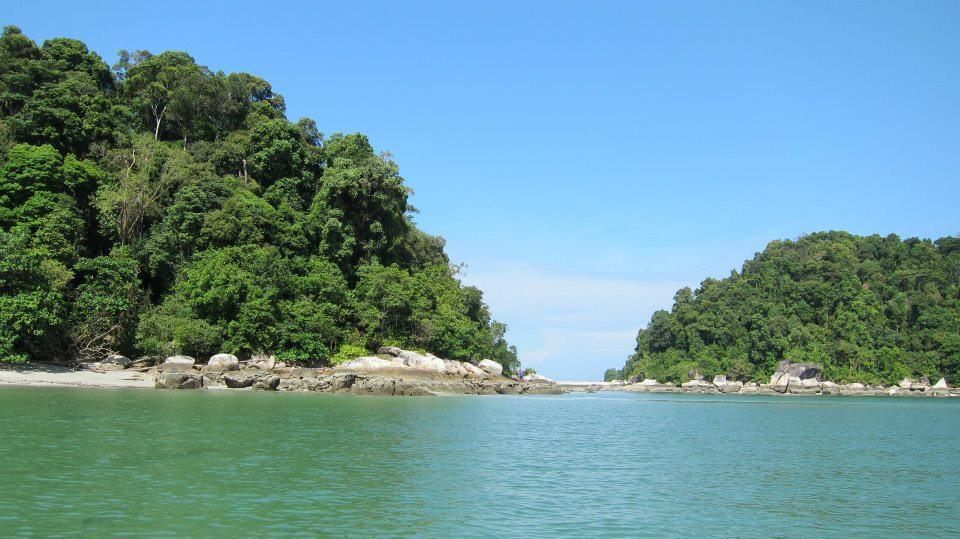 Kemudian kami ke -- huahgh tak ingat namanya apa, tapi kat sini orang ramai snorkeling. Kitaorg dok atas bot aje bagi ikan makan.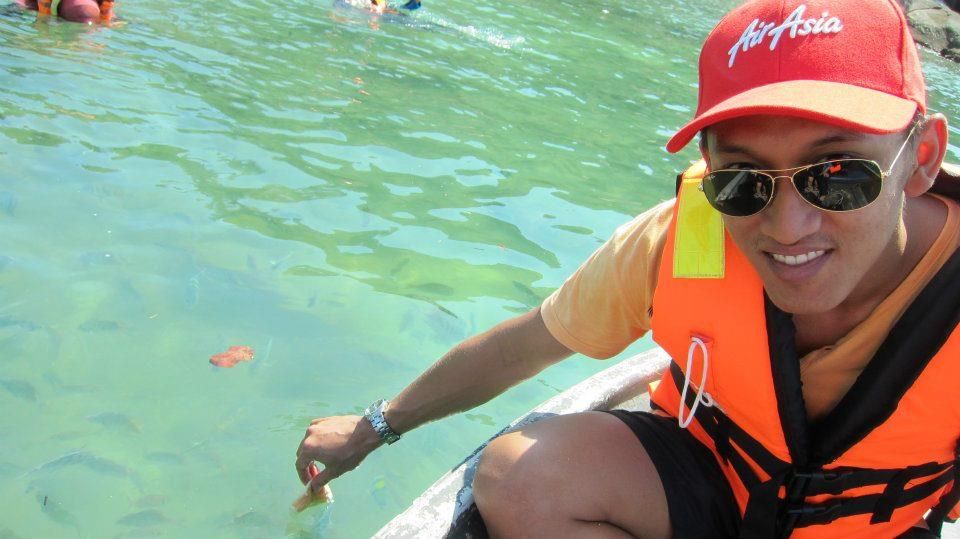 Next stop, Teluk Man. Pantainya memang cantik and bersih. Kat sini kitaorang lepak lama sikit sambil bermandi-manda.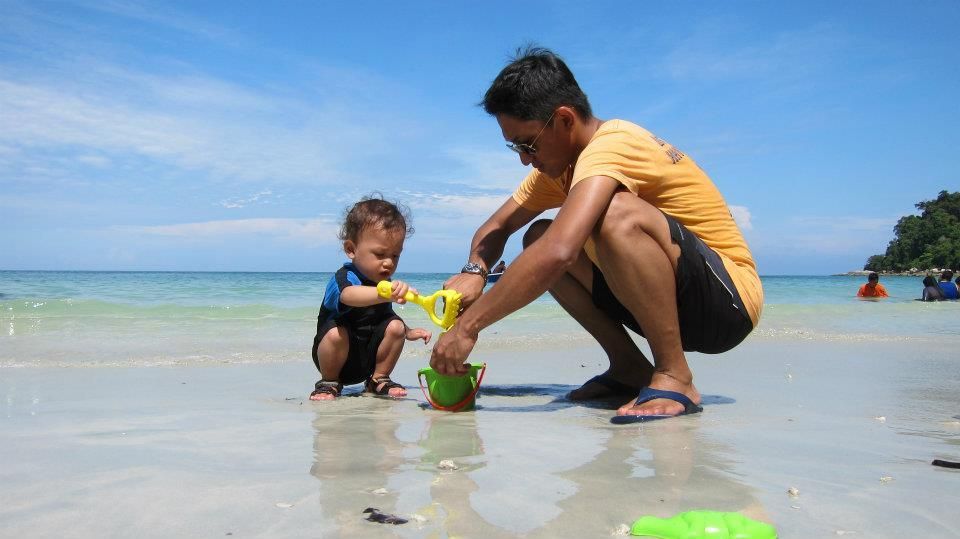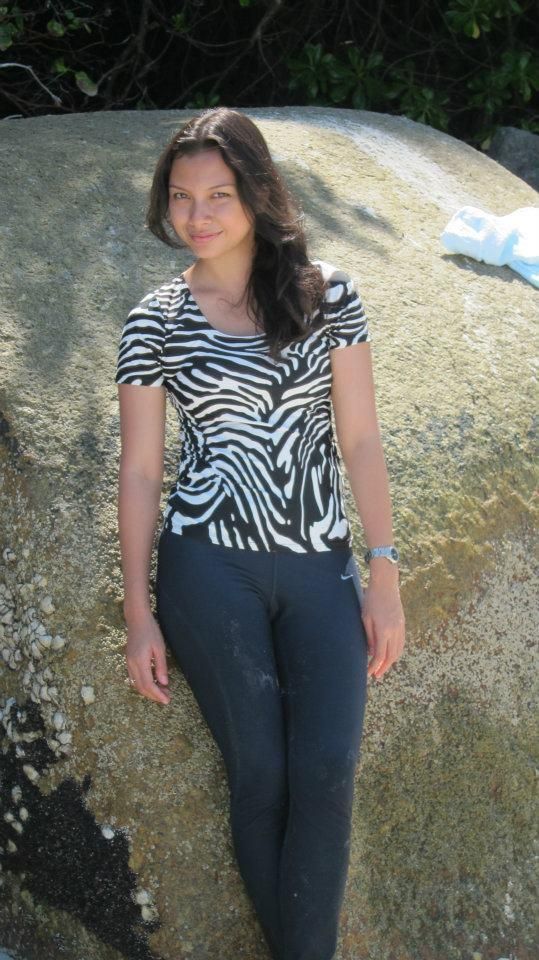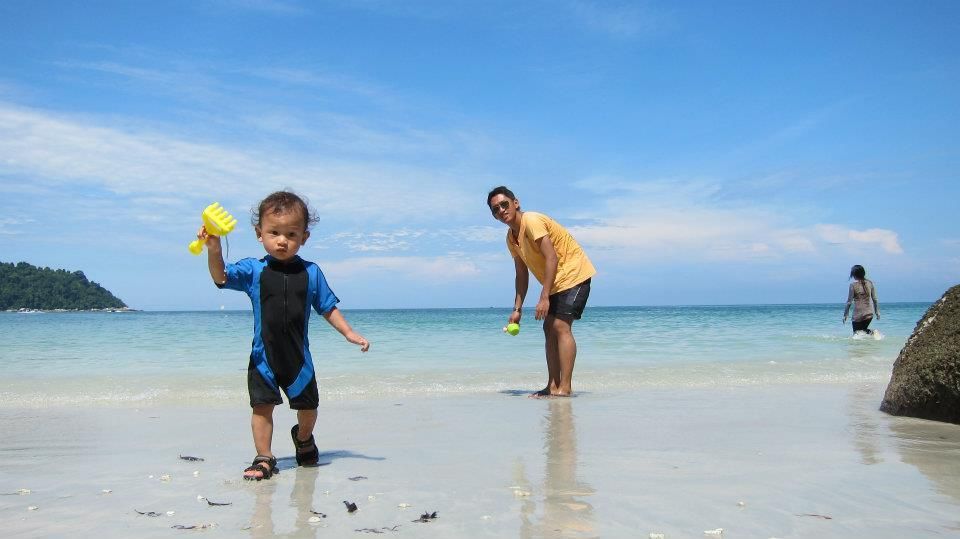 Memang syok lepak-lepak dekat sini cuma cuaca hari tu sangatlah panas. Amir aje lah yang larat berjemur.
Okay, selesai acara boat trips. Balik bilik untuk berehat-rehat. Amir terlelap sekejap, penat gamaknya. Tapi once dia jaga, dah tak tentu arah nak ajak keluar. Fuh!
So kami sewa motor, nak ke pekan and pusing-pusing kawasan berdekatan.
Amir sangat lah bersemangat nak naik motor. Ke mana kami ronda-ronda naik motor? Tunggu Part II huhuhu ni menaip macam tak cukup tanah kejap-kejap Amir datang serang.
To be continued...