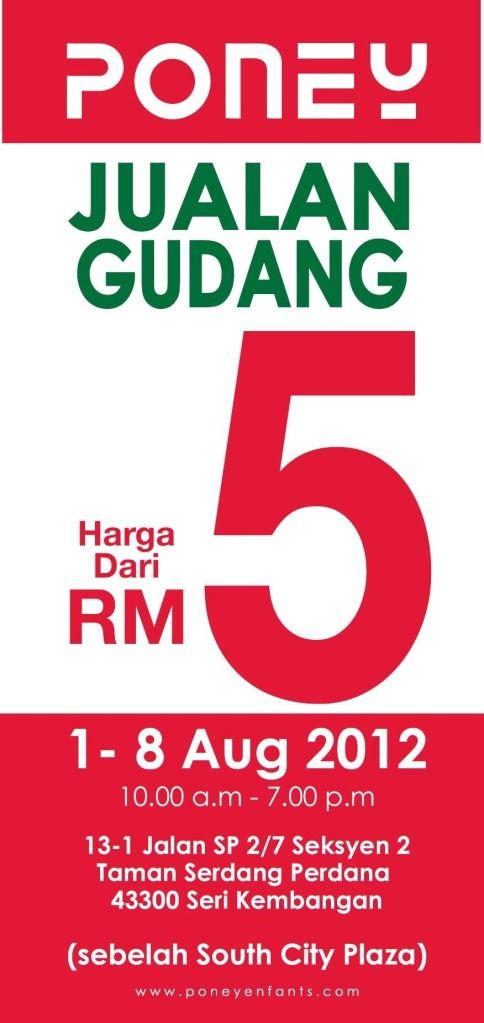 Date: from 1st August 2012 to 8th August 2012 ( 10am to 7pm )
Venue:
13-1 Jalan SP 2/7, Seksyen 2, Taman Serdang Perdana, Seri Kembangan, Selangor
-Plaza Cheong Hin, opposite to Poliklinik Komuniti Seri Kembangan. Next to South City Plaza
Ada banyak sangat bunting sepanjang jalan berdekatan, contohnya dari Palace of Golden Horse, I ikut je lah bunting tu.. Kalau tak berpusing-pusing jugak nak mencari if ikut alamat yang diberi.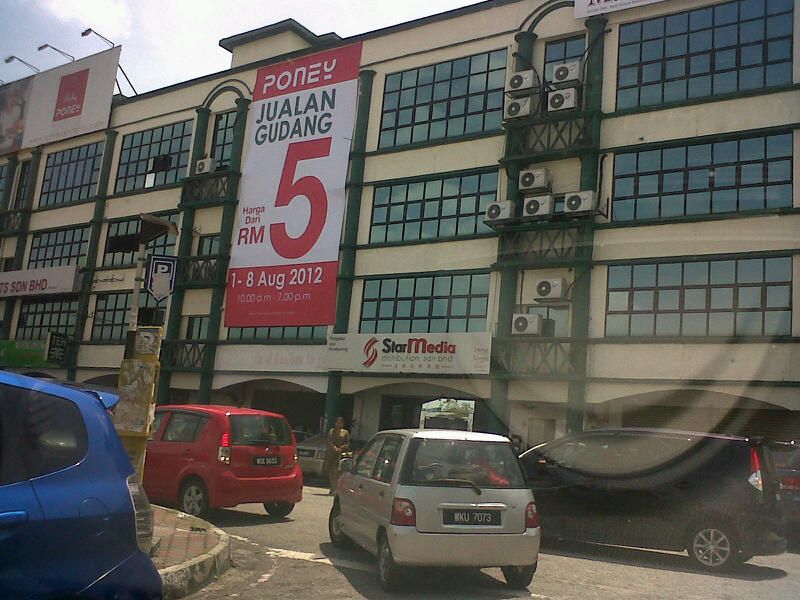 Scene of crime...
Bila nampak RM5 punya lah besar, melonjak-lonjak la hati nak pergi. PONEY RM5??? harus pergi.
Nanti, I review.
Sebelum tu, sila dapatkan gambaran sebenar keadaan di tempat kejadian. Sebelum masuk, sila beratur di barisan yang panjang gila. Mujur cousin dah sampai dari pukul 11 lebih, so bila I sampai pukul 12.30, terus dok depan dia - anyway husband dia tlg beratur kan dulu untuk I hihi
Kalau dilihat Q yang panjang, mungkin akan putus asa. Mungkin sebab ni 1st day, semuanya nak dtg awal and dah tengah hari. Ramai lah kakak-kakak office datang masa ni.
Dah masuk....
Tak tau mana nak mula....
di lautan manusia ini....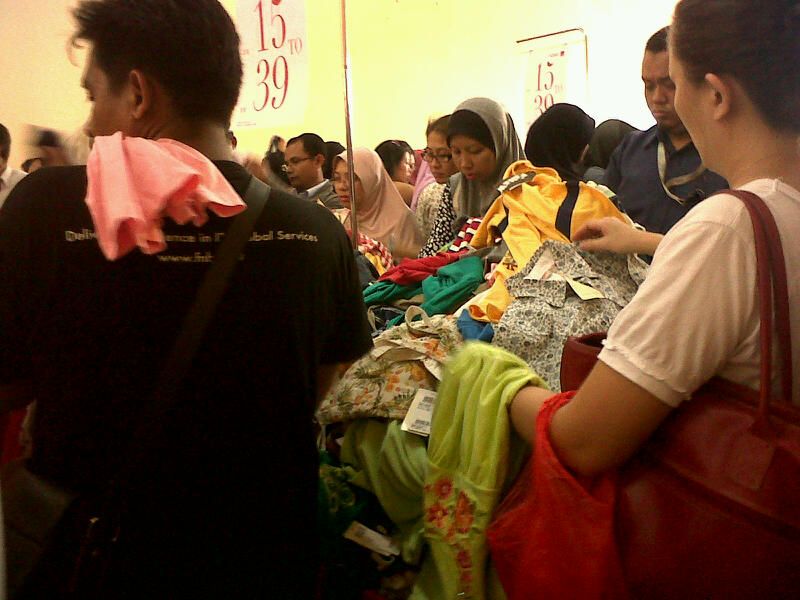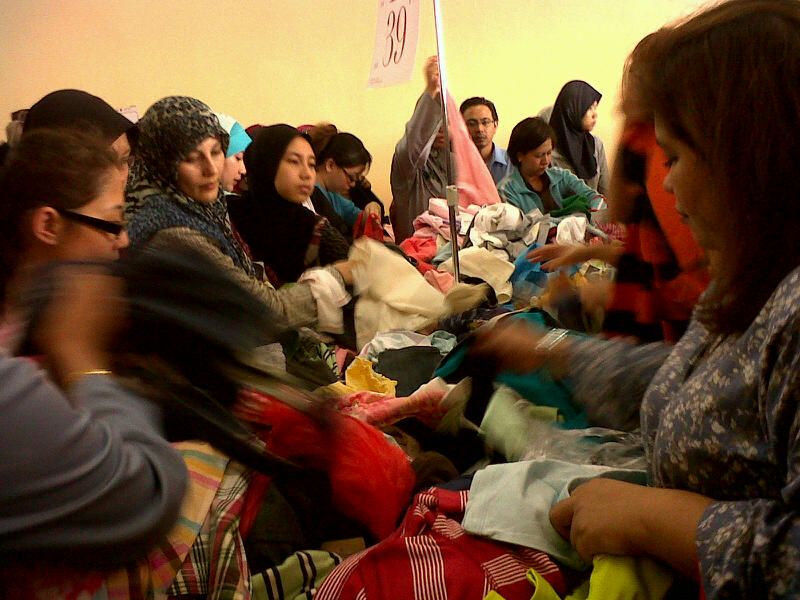 Seriously I tak tegar untuk berdiri lama-lama kat situ nak kumbah semua baju. Ambil mana yang dapat aje lah.
Bila dah selesai meengambil, kita nak memilih pulak kan.. nak finalized mana yang nak dibeli.
Duduk kat belakang shoplot tu pulak...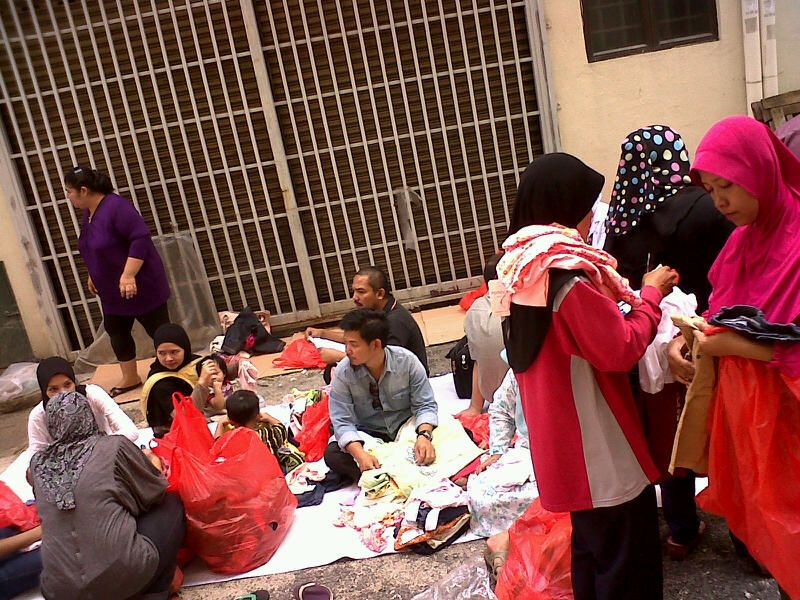 Dah memilih nak kena membayar pulak, Q lah lagi...
Manjang nak kena Q ni lah tak tahan and buat malas nak pergi warehouse sale. Tapi bila terbaca iklan dia tu, menggelintin aje nak pergi kan.
Now, here's my review pasal sale berkenaan:
- Venue nya di shoplot, space sangatlah limited. Itula penuh je dengan orang. Kalau ikutkan mungkin lah tak ramai sangat. Lebih sesuai la kalau dekat shopping mall punya hall ke. Which I ada dengar kakak tu kata 'selalunya dia buat kat South City Plaza'. Agaknya kalini dia buat kat bawah office dia je.
- Dalam bunting tulis RM5 bukan main besar... I tak jumpa pun ada baju RM5. Adalah sejenis dua nampak tanda harga RM9 - tshirt biasa je and baju girl, baju boy takdela murah sgt, RM15 paling murah. Kebanyakkan berharga RM15, RM20, RM25 (sangat banyak). Dengar kata, harga dia takkan lebih dari RM39. Basically okaylah, sebab original price brand Poney, Renew jauh lebih mahal. TAPI SAYA NAK BAJU RM5!!!! hehehehe
- Masa sampai tu, baju dah habis di kumbah. Yang mana pada asalnya, ada la section untuk infant, toddler, kids and teenager. Bila dah mixed up tak nampak dah la baju yang kecik. Yang banyak jumpa dek mata kasar baju 5, 6, 7, 11 tahun ke atas. Ni lagi satu sebab malas nak kumbah. Dapat pulak si pengkumbah di sebelah anda jenis yang suka baling baju bila bukan itu yang dia nak, rasa nak lemp... aje. Apeda takde manners.
- Disebabkan kawasan nya kecil, jangan lah bawak anak kecik. Kesian sangat tgk diorang, terpaksa ikut beratur, dah la panas kan dalam kedai tu. Ada sorang kakak tadi, dengan sarat mengandungnya, sorang lagi anak berdukung and menangis.. Kesian betul. Dia pun mesti stress.
- Talking about harga, tak la murah macam apa yang di expect - ni nama dia low expectation, kedekut taik hidung masin - padahal dah 70-80% lah discount nya kan.
- My personal opinion, i rate 3 out of 5 stars lah. Mungkin sebab tak banyak yang berkenan di hati atau sebab tak jumpa langsung yang berkenan di hati. Kalau tanya yang borong satu plastik besar sure dia kata berbaloi-baloi.
So takdelah mak Amir grab banyak sangat..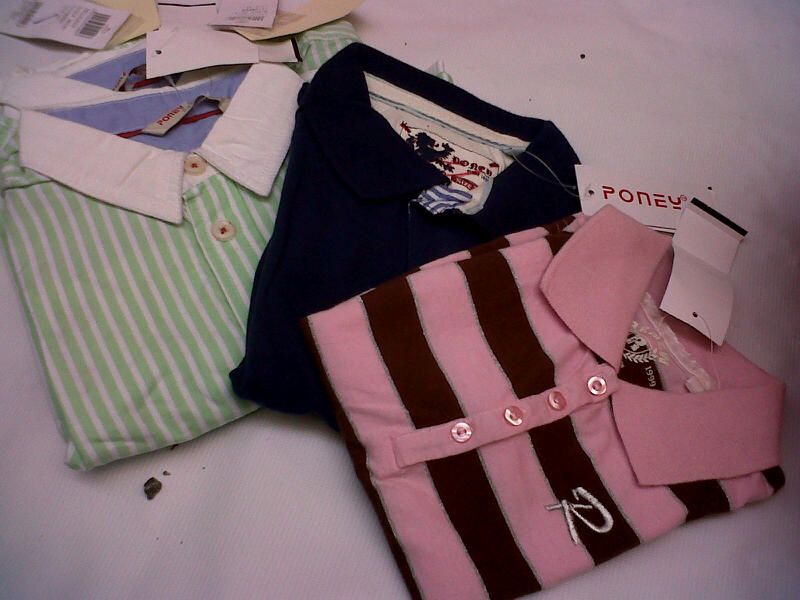 Kemeja hijau - RM25, shirt biru gelap - RM15 and baju pink untuk Amani - RM12
Ni bukan hasil bersungguh-sungguh, hasil sentapan kilat aje ni. Tak mampu nak berlawan tangan, tarik baju dengan kakak yang lebih besar lengannya ;p