Lagi sebulan aje Amir nak menjangkau 2 tahun. Kalau masa Amir setahun setengah atau lebih, tak banyak keletah yang dapat kami lihat selain muka masam dan serious, dan kalau disuruh senyuuuuummm... muka bertambah serious. Sebulan ni, dah perasan yang Amir dah mula banyak keletah. Lebih banyak vocab yang dia boleh cakap. Bukan sahaja bercakap malah memberi arahan..
"Baba, throw.. bin.. now!" - Suruh baba throw bunga api yang dah habis main dalam rubbish bin. Sebab budak ni takut bunga api, mercun apetah lagi.. Dia nak tengok sahaja orang main tapi takut nak pegang.
The only picture yang kami ada masa Amir main bunga api..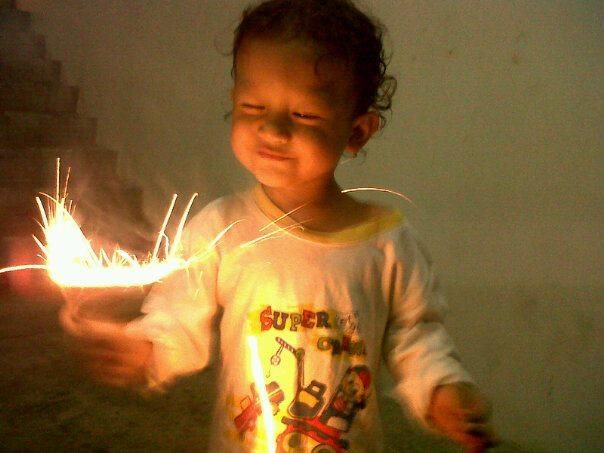 Tapi bila kita start main mercun pop.. Ini rupa dia .....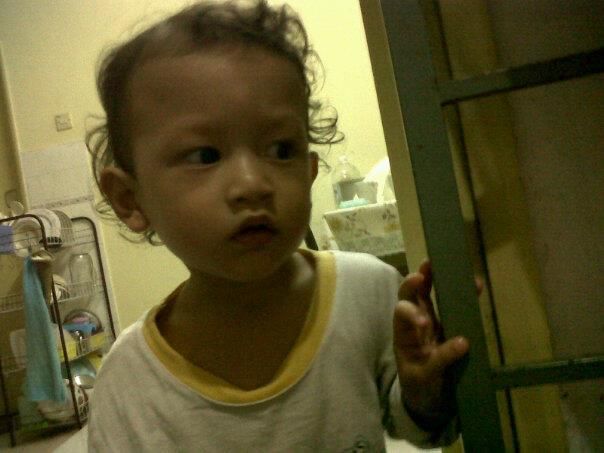 Selain tu, Amir juga dah boleh jadi mommy's helper. Especially bab nak kejutkan baba.. Once, he went to bedroom with his golf stick and yelled "Baba! Baba! Wakeup! Now! Now.. Baba, jom!"
Berani bapak dia tak bangun, anak dia sikit punya garang ;p
Nak melayan Amir makan pun dah tak susah, sejak ada pinggan warna-warni Ikea, dia yang selalu mintak nak makan...
"Mommy, nak biscuit.. put plate" -- Oh, ya Amir dah panggil mommy as in mommy bukan 'mi' sahaja.. Yeay! setelah hampir 2 tahun menunggu.. Panggil 'baba' sejak setahun, huh, tak aci!
Dah mintak pinggan, sibuk nak fork and spoon pulak. So particular! Renyah mommy nak melayan ;p
Bila dah diikutkan segala kehendaknya, maka he's a happy baby...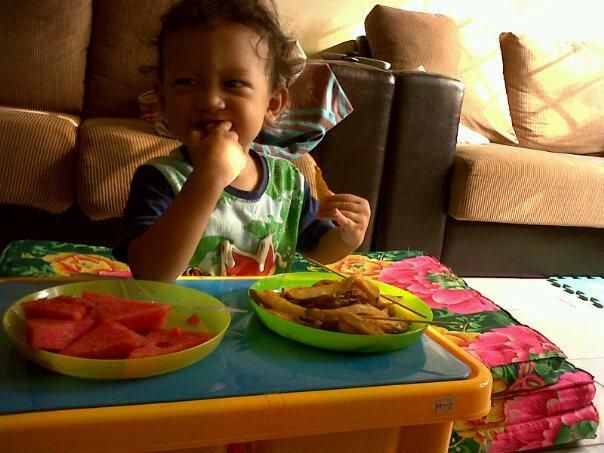 Baby? One day Amir suruh teka dia siapa.. I replied, Amir is a baby. Dia kata No! sambil geleng-geleng kepala. Selalunya bila kita kata dia baby, dia buat lembik-lembik badan hahaha
Okay, Amir is a big brother! Nooooooo! - lagi panjang no dia.. I was clueless..
Camana nak jawab kan, sambil duduk saja-saja disuruhnya kita teka siapa dia, lain lah dia tengah buat aksi ke apa.
I gave up. So, Amir is what ....???? I asked.
He said 'dog'. Tak ke random gile jawapan tu? At least buat lah gaya ke bunyi ke.. boleh la nak teka.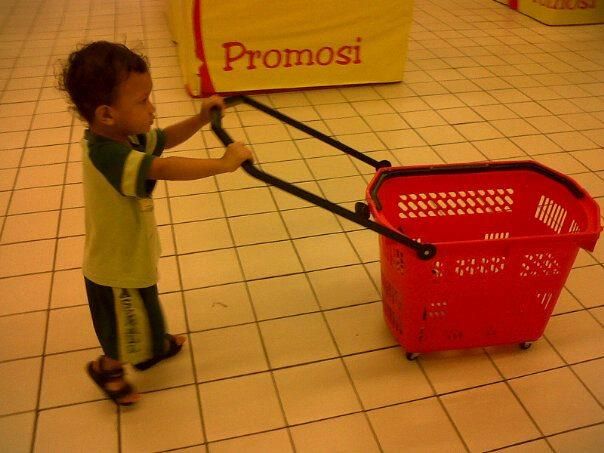 Ni lagi satu bukti mommy's helper. Tolong membanyakkan kerja mommy masa nak shopping groceries! Orang nak sibuk pilih barang, kena sibuk monitor dia supaya tak langgar rak mahupun orang.
Seperkara lagi yang buat mommy seronok, sekarang kalau nak ambil gambar, kita suruh Amir senyum... Ini dia hasilnya .....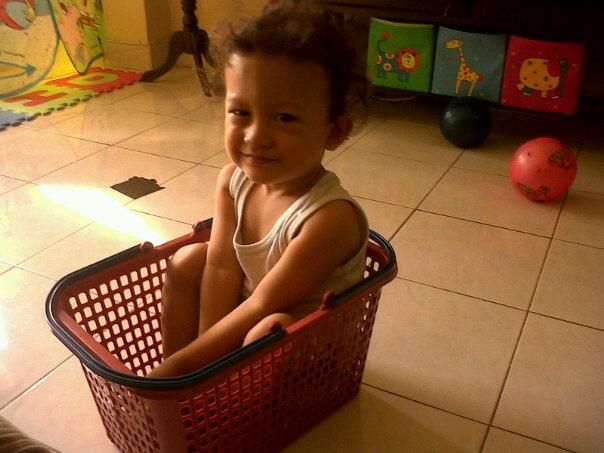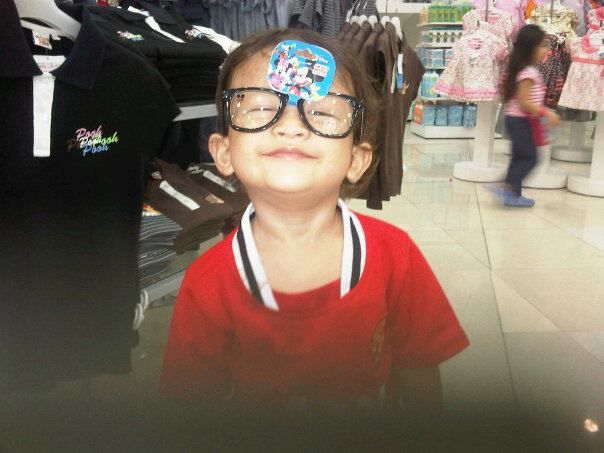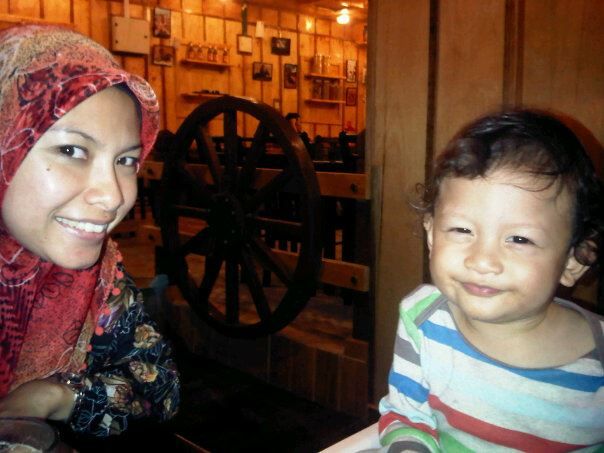 Soooooo like mommy!! hehehe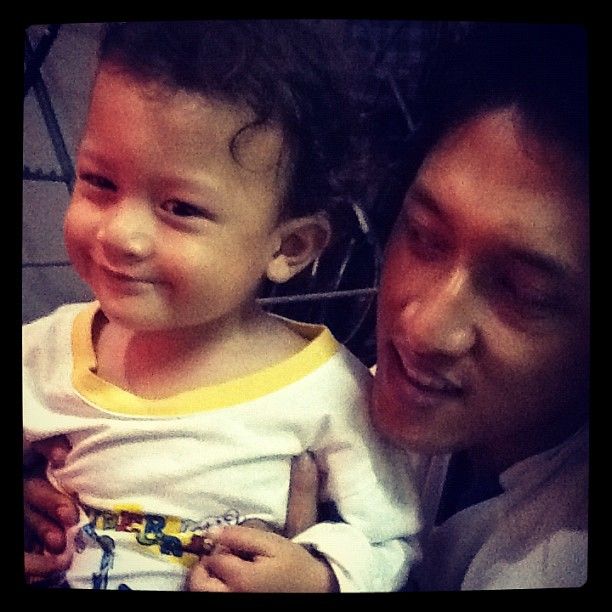 Bukan senyum sahaja, kalau nak suruh dia sleep masa ambil gambar pun boleh....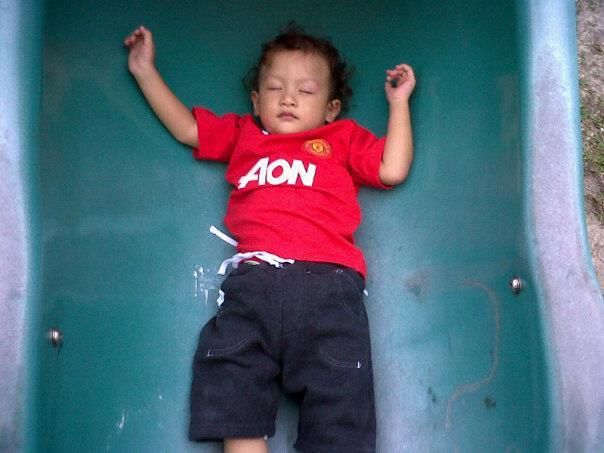 Main sampai pengsan!
Maksudnya, dah boleh respond kepada arahan lah. 2 tahun jugak menunggu Amir senyum banyak-banyak!
Okay Amir, sekarang susah sikit nak dapat satu entry, cerita pasal kamu aje. Now, satu entry kena share berdua okay?
Adik Amir dah 9 minggu in my tummy. Masa 7 minggu haritu, ada ke GP buat scan just nak make sure kandungan okay, in the womb. Kalau dulu, in my entry pasal
first pregnancy symptoms
, risau pasal false alarm. Anak pertama lah katakan, xde experience.. walaupun dah buat UPT ada double line, still meronta-ronta nak jumpa doctor to confirm pregnancy ;p
Tapi kali ni I risau kan pasal lain pulak. My colleague tak tau yang dia pregnant, sbb period still came, cuma berbeza sikit dari normal until dia rasa sakit perut yg luar biasa. Went to hospital, she's found out yang dia pregnant. Tapi ectopic pregnancy. Luckily dia tahu awal, just before baby membesar lagi and can cause her fallopian tube pecah. However, still dia kena operate untuk remove the baby and one side of her fallopian tube. So sad for her. Apetah lagi, masa dia sibuk di hospital warded for weeks, I got to know that I'm pregnant. Sedikit sebanyak risau jugaklah. It can happen to anyone kan.
Masuk minggu ke 8, dah mula experience a mild sickness. Itupun once in a while. Cuma selalu gassy and lapar sampai perut pedih. Pening kepala and loya, sekali sekala aje. Sangat lah berbeza compare masa Amir dulu. At least now I still can cook unless saya malas ;p Masa Amir dulu, bila fikir nak masak je dah pening hehehe Bila masak nasi, ada bau keluar, Ya allah tak boleh tahan bau tu. Rasa macam meloyakan sangat. Ami kata bau dia okay aje huhuhu Selera makan pun agak teruk masa tu, very selective.
Kalau dulu frequent urination, sekarang biasa-biasa aje and no increased sense of smell.
Disebabkan kurang ada sickness, very occasional, kadang-kadang terlupa yang kita ni pregnant. Masa first pregnancy, punya lah berjaga-jaga.. jgn angkat berat, banyakkan berehat. Mungkin sekarang tak dapatlah semanja itu. Apetah lagi, Amir memang selalu request untuk didukung. Juga suka melompat-lompat atas badan bila kita baring. Dengan adanya Amir, rumah lebih bersepah memang tak dapat lah mommy nak bermalas-malasan still kemas rumah macam biasa. Anyway, doa lah supaya tidak ada apa-apa buruk berlaku sebab memang kena lasak sikit this time. Bila teringat masa pregnant dulu, alolololo mengada-ngada sungguh itu tak boleh ini tak boleh ;p Now, semua boleh!
Next Monday, first appointment dengan Prof Hashim. Ironically, masa pregnant kan Amir dulu, juga berjumpa Prof Hashim seminggu sebelum raya, nak confirmkan mommy sempat raya lagi, nak travel ke Kuala Pilah lah katakan. Bezanya dulu sarat sangat, this time baru lagi.
Ah, I can't wait to see u!