Buat kali pertama bawak Amir ke Sunway Lagoon. Masa dekat rumah bila baba sibuk ambil pelampung, dia tak menyempat nak pakai.
Bila sampai je di Sunway Pyramid, sebab nak lunch dulu, dia dah sibuk pakai pelampung berjalan keliling food court.
Surprisingly, walaupun sampai kat entrance Sunway Lagoon tengah hari, tak ramai orang pun! Lucky us..
I bought the ticket online, masa bulan 4.. dah hampir expiry date pun. RM60 for adult, boleh masuk water park, amusement park and wildlife park.
Masuk-masuk je Amir nampak horse. Kita main satu round dulu...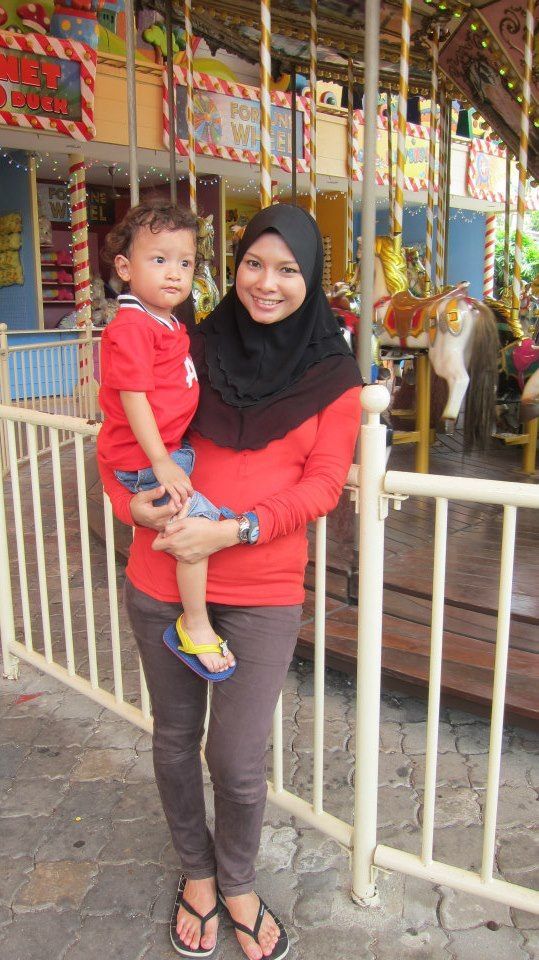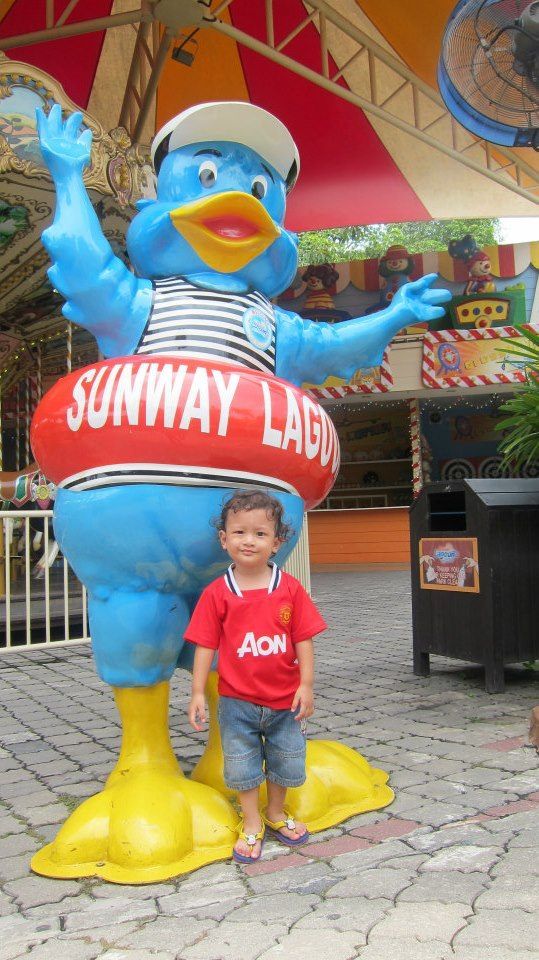 "Duck..duck big duck! Take picture" Sebab tu dia senyum, dia sendiri nak ambil gambar.
Masa yang ditunggu-tunggu telah pun tiba, cepat2 tukar kepada swimsuit now it's play time!!
Dah selesai tukar attire, then Amir nampak something.....
Bukan main surprised dia nampak tiger.
Perjalanan diteruskan ke water park.
Sure Amir seronok tengok playground in the water!!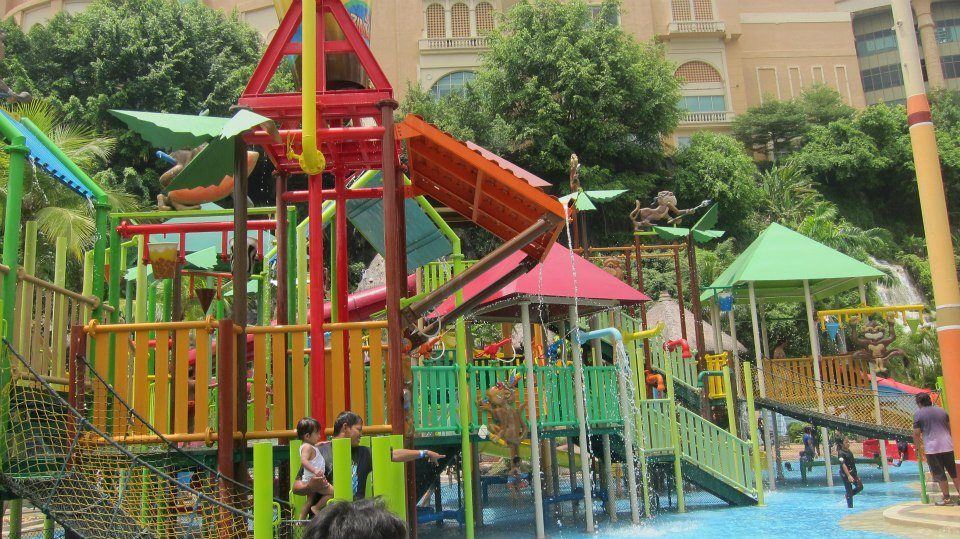 But before that, bagi dia main pistol kat tepi dulu..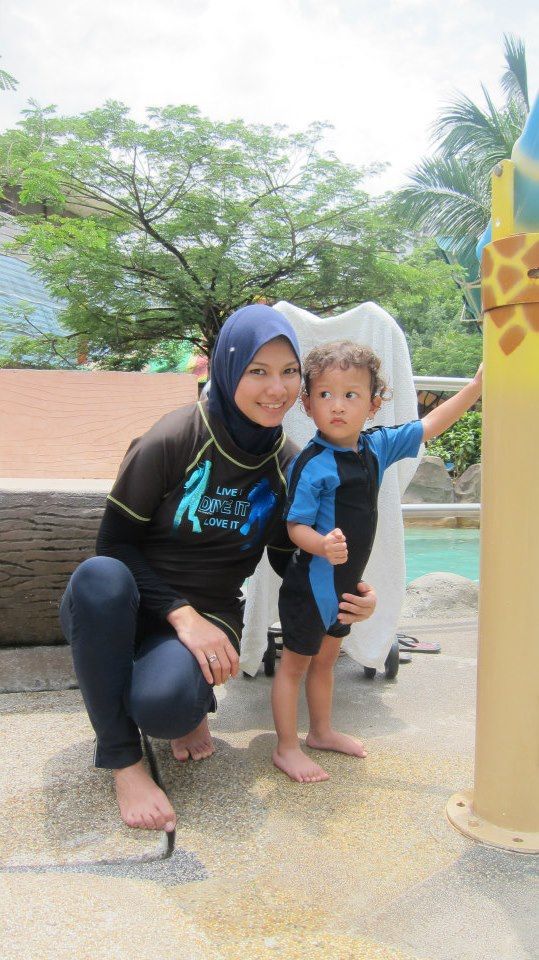 Then mula nak bawak dia masuk air...
Adakah Amir betul-betul gembira dan teruja?
Nah, ini dia punya gembira...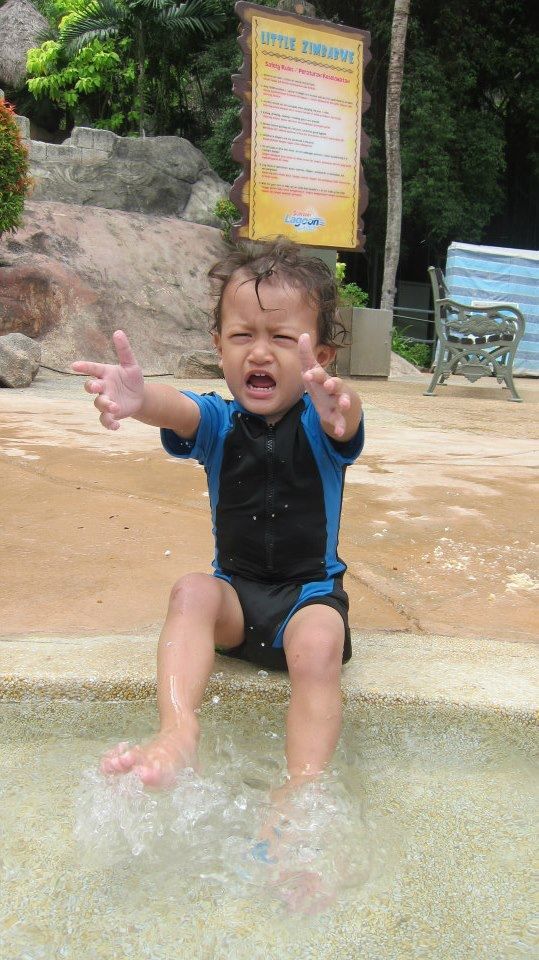 Langsung tak boleh dibiar lepas, nak berdukung. Bila letak dalam air menangis-nangis tak mau. Nak berdukung jugak and kalau boleh dok kat tepi2 je. Tak tau apa silap mood swing, tadi masa tengok tiger, main horse, main pistol mood okay lagi. I assumed dia mengantuk dah tengahhari.
Bawak main slide lagi dia hangin, sebab kat slide tu ada air siram kat kepala dia ;p Fyi, Amir memang cemas bila air disiram kat atas kepala. Trick mommy, baba and ibu bila dia lama sangat main dalam bilik air tak mau keluar, siram je kepala nanti dia kata "Tak nak mommy, Amir dah.. amir dah.."
Tapi ini Sunway Lagoon anak oi... memanglah kita kena main dalam air berjam-jam (baru berbaloi rm60!).
Dah dia boring kat tempat mandi kanak-kanak, kami bawa ke kolam orang besar. Sebab ada London Boys tengah menyanyi, mana tau dengar muzik mood dia okay. Siapa tu London Boys, aku pun tak tau dok nyanyi lagu orang lain je termasuk Gangnam Style.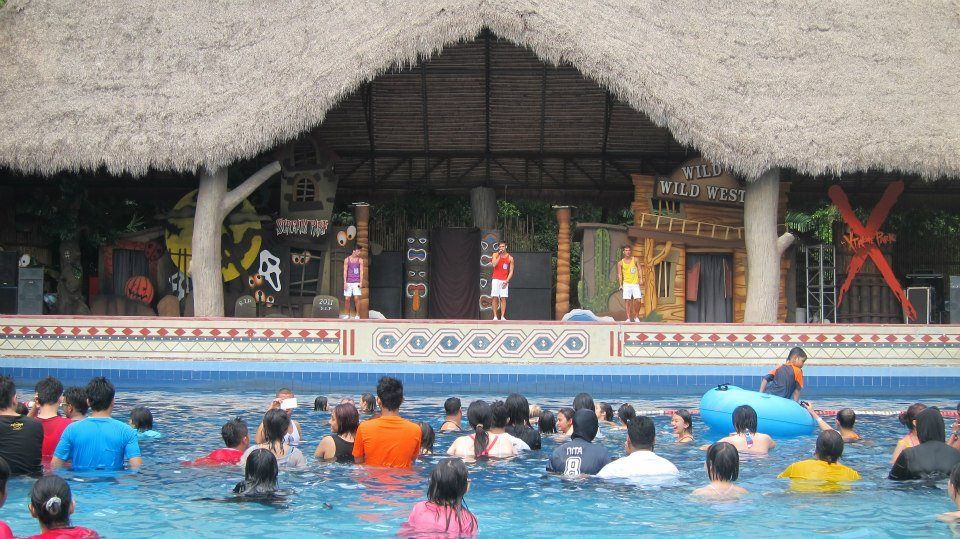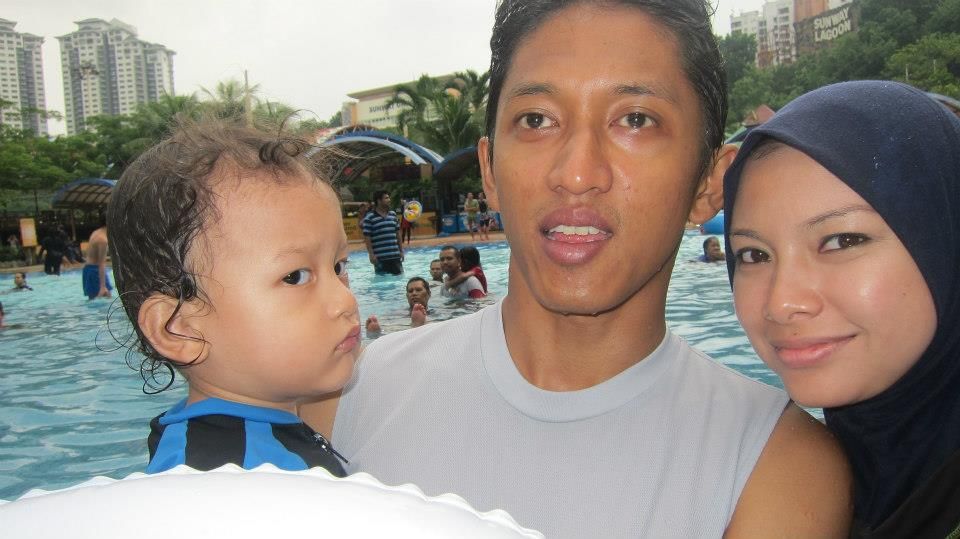 Masih takde mood.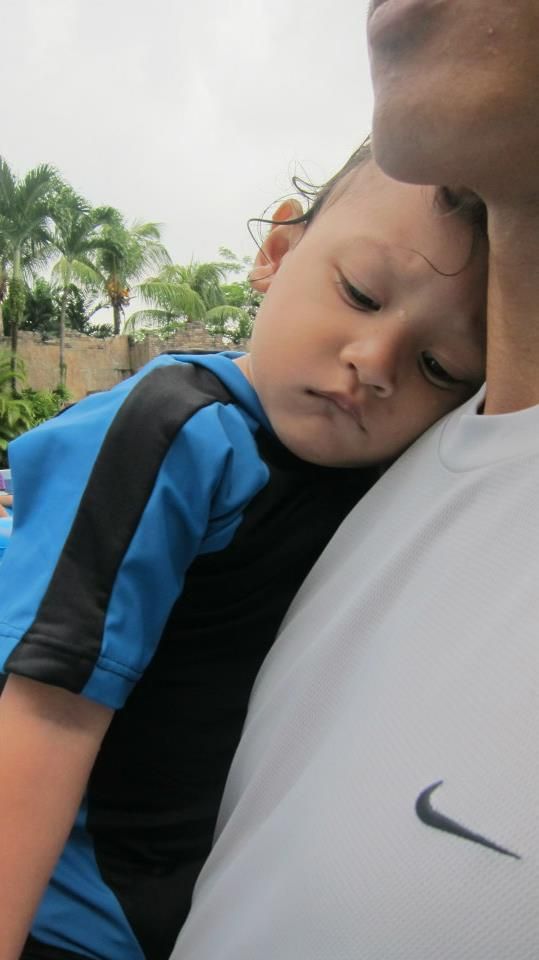 Confirm mengantuk. Orang dok nyanyi bising-bising lulls him into sleep!
Mujur tak ramai orang, dapatlah duduk kat bench tepi kolam. Akhirnya trip ke Sunway Lagoon kami lebih banyak di daratan daripada lautan.
Mommy and baba pun tidur dekat 2 jam, join Amir. Tapi syok jugak. Very relaxing.
Bila masing-masing dah bangun, terus tukar baju now kitaorg nak pergi amusement park pulak.
Masa naik ferris wheel ni dia okay, tapi masih nak duduk berhimpit dengan mommy.
Kalau naik ride yang laju sikit je dari ferris wheel, terus cuak.....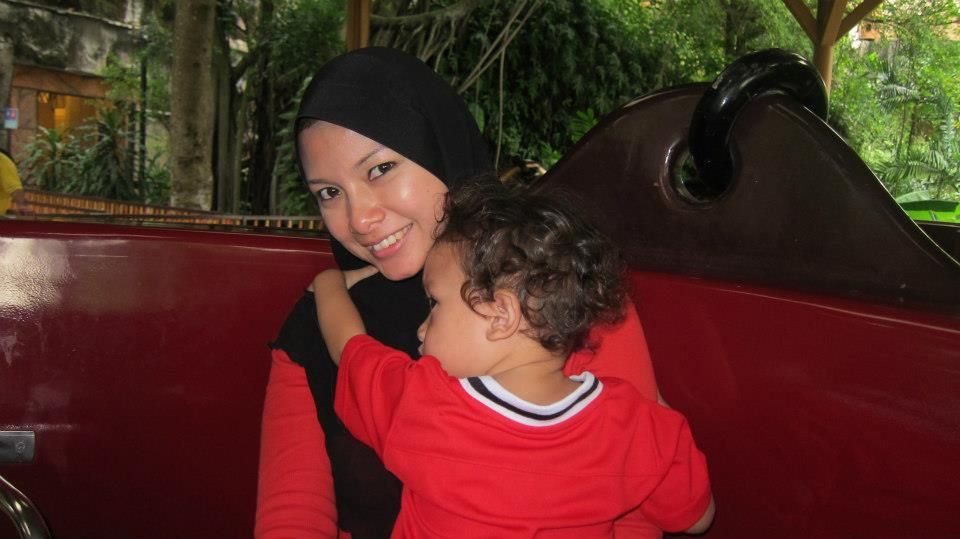 Cup yang berpusing-pusing. Tapi Amir kata "Scared.. hug mommy" Hahahaha kitaorang punya pusing streering kasi pusing lagi laju.
And baba had the chance naik flying carpet / ship etc. Untung tak ramai orang, langsung tak payah Q.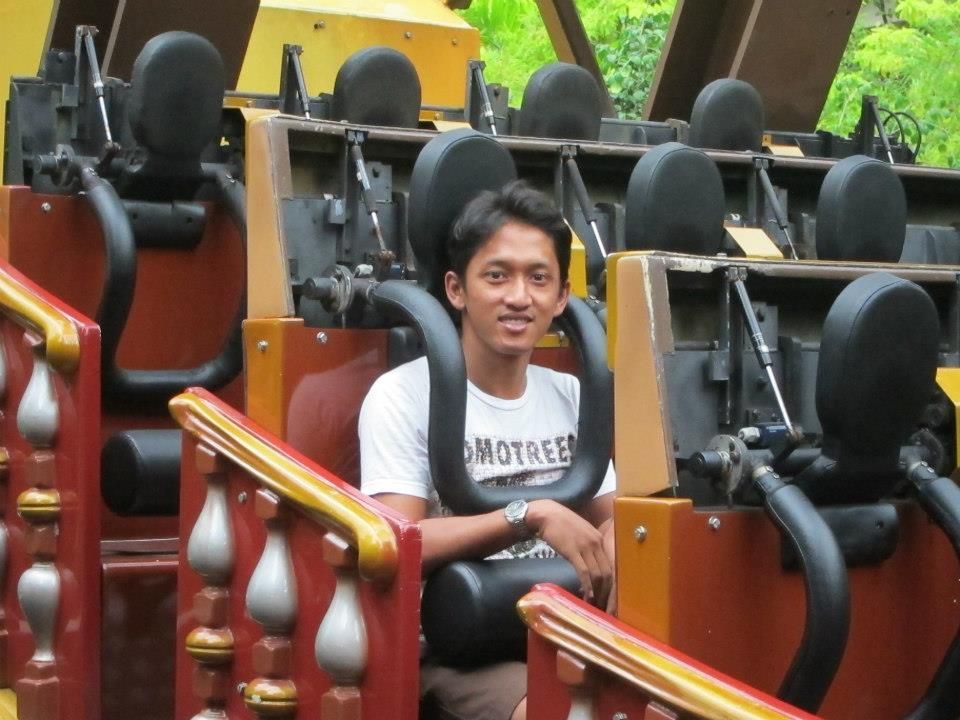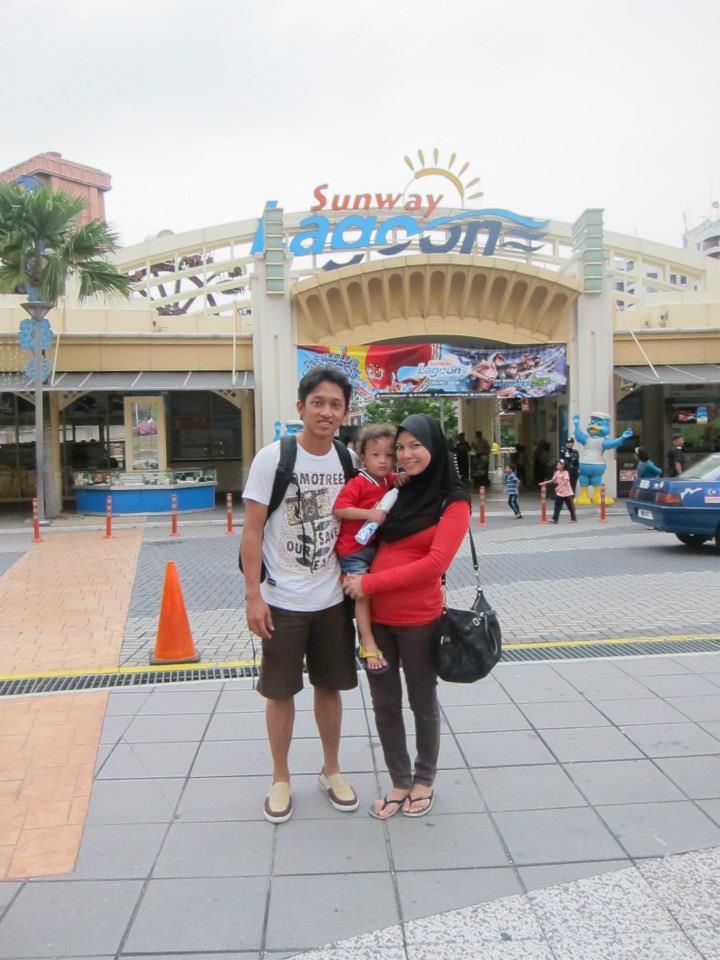 Begitulah trip kami ke Sunway Lagoon. Walaupun idea asal untuk bagi Amir enjoy main air, but he didn't, we still enjoyed ourselves spending quality time with our family. Lama dah tak berjalan-jalan, a quick gateway pun dah cukup okay.
On another note, life is sooo hectic nowadays. Who doesn't? Kan. Kerja, study, family, time for yourself... Both Ami and I struggling to upgrade life to the better. Supaya anak-anak kami nanti selesa. We had agreed to a new profile, for our job (adding another profile in life!) about at the same time last 2-3 months. It's not that we earn double, but the workload is certainly triple. Now we (or it's just me) in a stage where I felt --> apesal lah aku ambik job ni dulu? Hahahaha u know once in a while, bila I wish to be at home playing with my son, cooking for my husband --> I'm still here stucked at my desk with my growing belly and kerja phd yang progressnya amat minimal bermain-main di minda --> doing my office chores - balik lambat, stay up malam2, bangun pagi2 - semata-mata nak siapkan kerja opis.
Balik rumah, pukul 10pm je kami dah exhausted. Amir masih energetic ajak baba main ball "Baba baba jom.. jom main.. Kick ball high" - Masa tu mungkin kami... 'dah la Amir jom lah tidur...' - overwhelmed with his invitation.
Bila kat office regretnya tak main dengan Amir :( MACAM SEKARANG NI, RASA NAK BALIK RUMAH JUMPA AMIR TAPI SETIAP HARI KHAMIS SAYA ADA KELAS SAMPAI MALAM. So, lupakan.
Hah!
Sampaikan dah pregnant berapa bulan pun selalu lost count. Asyik ingat 4 bulam preggy, rupanya dah 5 bulan setengah. Bila tak ingat ke kena refer kat Ticker kat blog ;p
Mujur banyak info dah record dalam blog, kalini memang tak banyak study pun pasal pregnancy, membaca apatah lagi..
Sangat merindui keflexiblean masa yang saya ada dulu. Mungkin sementara ini kena korbankan yang itu, bila sampai masanya nanti, hope kita satu family dpt happy-happy and selesa dengan life yang kita ada. Sikit lagi......
Anyway, pictures taken by Amir...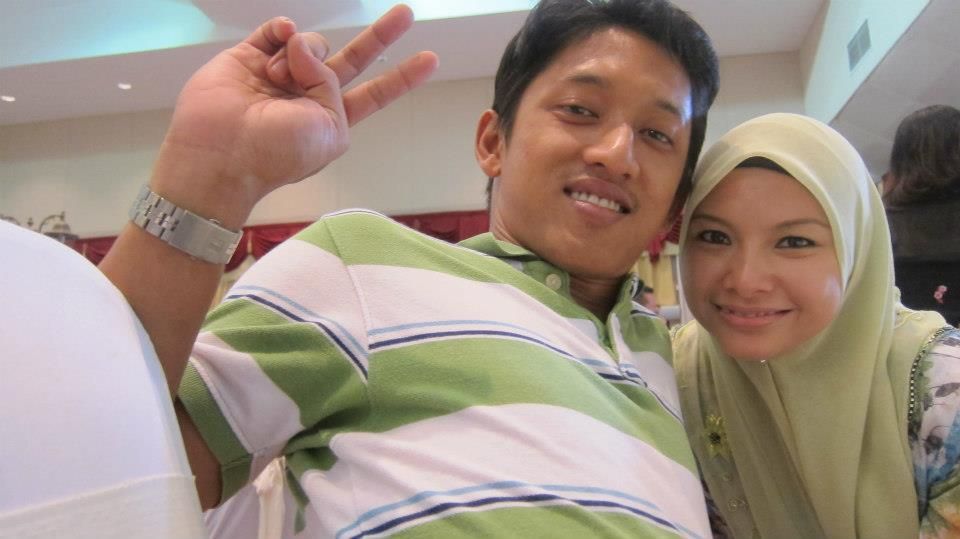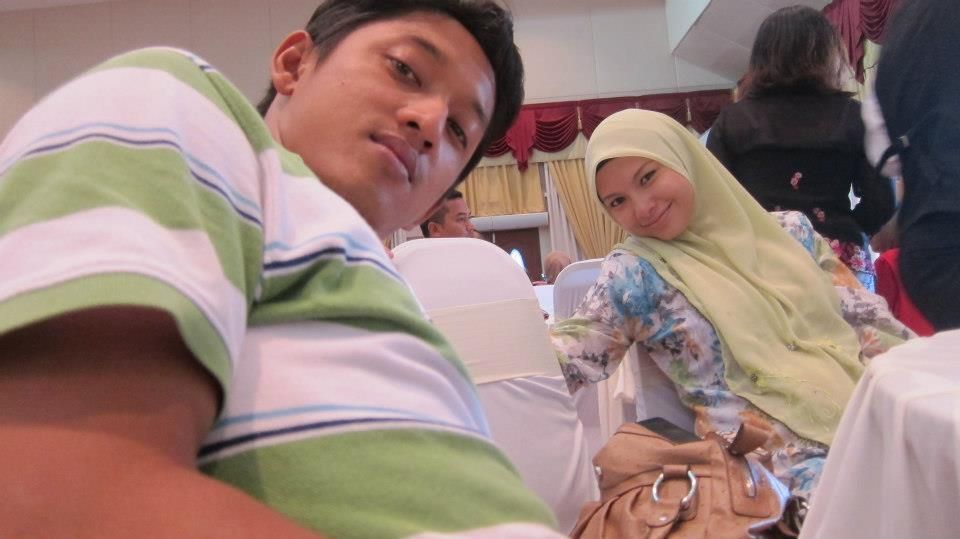 Dah bujang si Amir, boleh jadi photographer....