Lama jugak nak tunggu 2nd checkup since I have to reschedule the first proposed date to the later, then Prof Hashim's schedule is always definitely tight, make it even later. Fuh, rasa sungguh tak sabar.
Masa 2nd checkup ni, dah masuk 16 weeks. Yeay, 4 bulan! Meaning dah 2nd trimester. 1st trimester taklah rasa macam masa Amir dulu sebabnya sickness was very mild. To my surprise, masa masuk ja 4 bulan ni pulak sickness menjadi-jadi but nothing to compare with my first pregnancy.
Masa week 14-15, dah rasa baby gerak. Walaupun mula-mula rasa unsure tapi sebab dah ada experience maka lebih certain itu adalah movement baby bukanlah angin tersekat ;p Once masa week 15, tengah dok dalam lecture, dengar Dr Noor Akma berceloteh, bukan main lagi baby gerak - for the first time bergerak dengan banyak! I was so excited. Kalau bukan sebab duduk betul-betul depan Dr mungkin saya dah tersengih-sengih kegirangan. The following days pun ada rasa sehinggalah minggu seterusnya (iaitu minggu lepas) dah tak rasa baby gerak. Samada kita tak fokus sebab tu tak rasa atau sebab lain. One of the reasons why tak sabar-sabar nak checkup and scan.
Checkup kalini kami bawak Amir sekali. First time Prof Hashim nampak Amir, remark beliau ialah 'Oh rambut dia kerinting!' Hihihi
Amir siap hulur tangan kat Prof, tapi bila duduk dia tanya 'Ni apa?' means ini siapa. Sabor je lah.
Now, it's time to see baby... Weeeee mommy excited! Amir cool aje.. dia kata 'tengok baby... tiwi.. (TV)' - tengok baby kat screen la tu gamaknya
Bila dengar bunyi heartbeat je, syukur sangat. Baby sihat... Prof kata InsyaAllah, jari cukup... takde sumbing...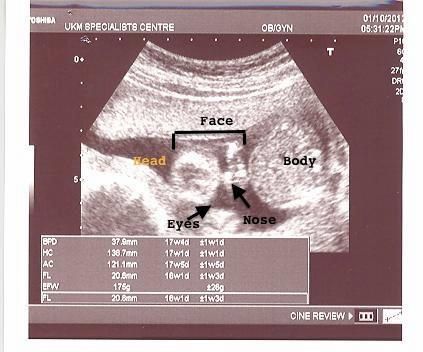 At week 16.
Sempat tanya Prof, boleh tau gender tak? Prof kata InsyaAllah kita cuba. Padahal dia tengah sibuk kira jari apa semua.. kita tak sabar nak tau yang lain kan...
So, cakap pasal gender ni.. Bila pregnant tu kan, seronok main teka-teka. Hakikatnya kita tak kisah pun apa-apa. Tapi bila teka betul tu, rasa bangga walhal teka apa2 pun memang ada 50% chance untuk betul ;)
Bila pregnant kalini macam lain dari yang dulu, memang expectation pun opposite Amir lah kan.. Orang kata, perut kecil ni mesti girl. Suka makan manis pun orang kata sebab pregnant girl. Tapi bila tanya Amir nak baby girl ke boy, dia kata 'Boy... nak kick ball' Adus, takde benda lain.
Seronok jugak dengar, dapat sepasang syukur Alhamdulillah. Complete lah family kecil kami.
Itulah alasan ke-2 kenapa tak sabar nak pergi checkup. Dengan syoknya jumpa baju baby RM5 kat Brands Outlet (alasan!). Hasih nak tau sangat la ni....
Jadi, selepas dah measure baby.. kira jari... check muka.. Prof Hashim pun menjalankan tugasan selanjutnya.
'Ha.. nampak tu.. Apa tu?' kata Prof
Alamak Prof ni, mana lah nak nampak.. dia setiap hari tengok.. sedangkan muka pun ambil masa nak faham mana mata, hidung, mulut etc
'Tu kan ada dua ni, pastu ada satu terkeluar'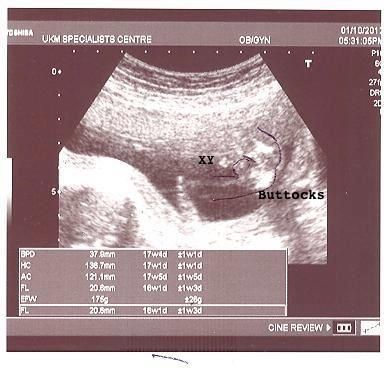 *Prof siap conteng sebab tak faham-faham.. hahaha
Yup, it's XY again! For now itulah gender yang ditulis oleh Prof dalam buku merah.
Happy kew?
Maunya tak happy, I'll be the rose among the thorns! Wuuuuhuuuu..
And of course, mamat tu lah paling happy...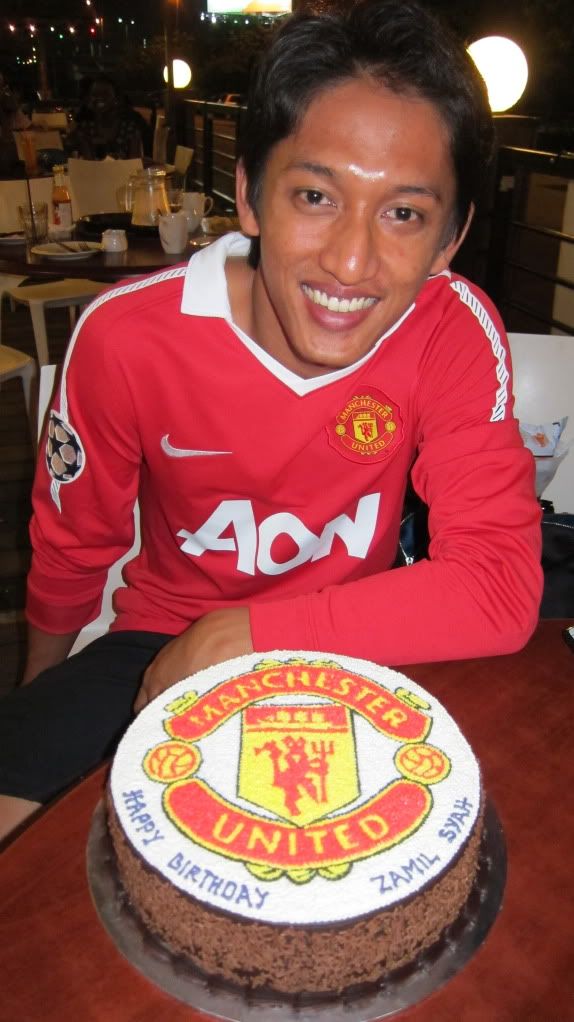 Iye, mamat Zamil Syah ni!
Thanks for the Y chromosome again, husband! U know I like boys.....
Next checkup lagi lama nak tunggu.. Sebab Prof akan pergi menunaikan haji. InsyaAllah Haji Prof Hashim lah akan menyambut 2nd baby ni.. ;)