Masa menunggu kelahiran Amir, punyalah tak sabar. Membayangkan seronoknya dapat hold baby, tengok baby tidur, senyum and later ketawa bila kita agah. That was my typical imagination pasal baby.
Tapi sebenarnya baby ni, it's more than tidur dan tak semestinya senyum atau ketawa bila kita agah! Jadi, selepas kelahiran Amir, memang tunggang-langgang kami dibuatnya. Seriously tak well-prepared langsung, ingatkan beli baju, diaper and toy dah cukup ;p
RECAP
Disebabkan Jaundice, almost hari-hari pergi check darah di klinik. 2 kali admitted hospital, dari hospital Kuala Pilah ke HUKM ke Kajang. Hampir sebulan jugak kami bertarung dengan isu Jaundice.
Selepas hampir sebulan, jaundice was no longer an issue. Amir yang selalu sleepy head, dah susah nak tidur siang. Pagi he was a happy baby, towards late noon dia dah jadi cranky, sampai ke petang dia dah start melalak kan suara high pitch-nya. Hmmph. Tunggu baba sampai rumah dari kerja, baru lah mommy dapat lunch - dan nak dekat waktu dinner pun.
The first 3 months, itulah aktiviti Amir - cranky di tengah hari, menangis di petang hari sehinggalah pukul 9 mlm. Tapi Alhamdulillah, kalau bukan sebab tak sihat Amir tak pernah menangis tak tentu pasal di waktu malam. Kalau nangis pun sebab nak kejut mommy untuk bagi susu.
Masa Amir umur 6-7 bulan, mommy and baba selalu rasa tak sabar nak tunggu Amir setahun dan pandai berjalan. Ada yang cakap, kalau dah besar lagi susah, nak kena kejar sana sini, memanjat etc. True enough. Tapi kami sangat-sangat enjoy tengok Amir main, berlari sana sini, kick ball, memanjat (with parental supervision).
Nah, sekarang Amir dah setahun setengah! Weehuuu...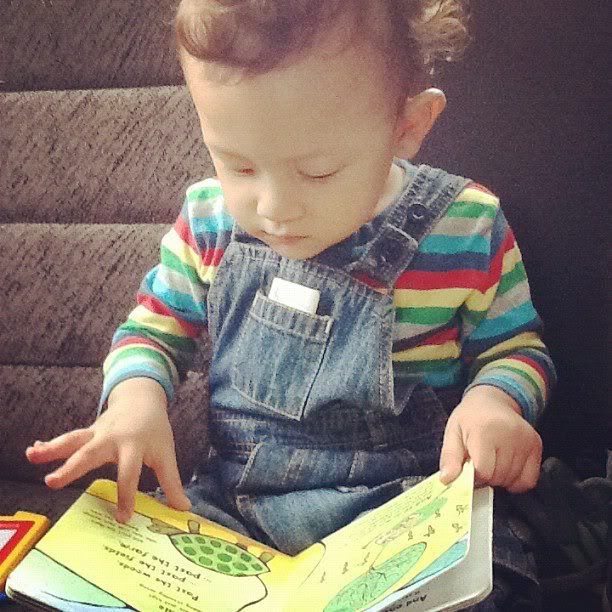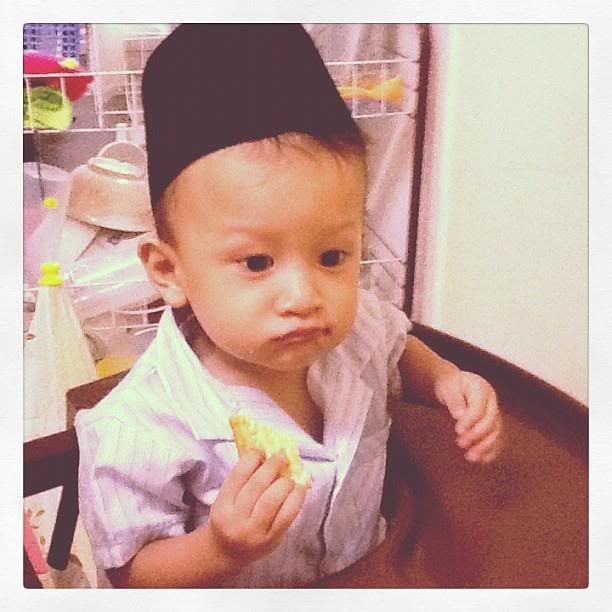 Kaki Main
Bila kat office, tak sabar nak balik rumah nak main dengan Amir. Tapi selalunya, menjelang pukul 10pm, Amir masih bertenaga untuk main, emak dan bapak yang dah surrender nak tidur. Keesokkan harinya, rasa menyesal sebab tak main puas-puas, maka bertekad untuk main lebih banyak lagi dengan Amir malam nanti. So, bila kat office, tak sabar nak balik rumah nak main dengan Amir. Tapi selalunya, menjelang pukul 10pm, Amir masih bertenaga untuk main, emak dan bapak yang dah surrender nak tidur. Keesokkan harinya, rasa ---
Hah, macam tu lah hari-hari!
Sekarang Amir dah pandai demand, ajak main dekat luar. Tidak kira hujan atau panas. Kadang-kadang, kami layan kan dia main kat depan pintu rumah je. Luar jugak apa.. Tapi nanti dia saja-ja kick bola pergi kat tangga, so bola boleh bergolek-golek kat tingkat bawah. Dia pun ajak kita pergi ambil bola dan secara tak langsung terus bawak dia main dekat bawah.
Amir quite friendly dengan kanak-kanak atau baby. Kalau dekat kedai makan, rasa-rasa macam dia nak mengganggu-gugat waktu makan kami, kitaorg suruh je dia pergi table lain say Hi to the baby. Nanti dia pergilah jalan terkedek-kedek, bila sampai je dia jerit 'Haiiii' and tunjuk-tunjuk sambil say 'baby..baby..' Sure parents baby tu terkejut, tapi berjaya la kami makan beberapa suap before Amir datang table kami semula.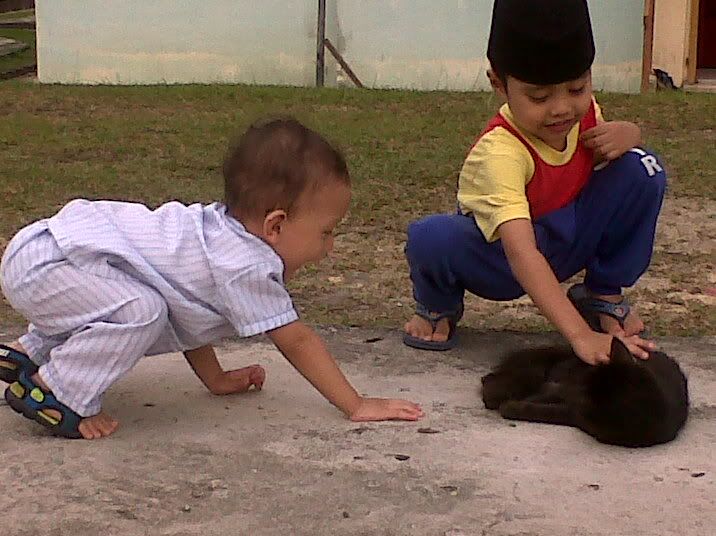 Kalau main dekat playground bawah, if nampak kucing bukan main excited. Tapi sebenarnya bila dekat dia geli-geleman ;p
Ini Amir dan kawannya, Affan
Amir masih belum pandai initiate untuk bermain dengan toddler lain. Tapi kalau ada toddler yang pandai layan Amir main, memang naik sheikh habis mamat tu.
Kaki Tengok TV
Sebelum Amir pandai bermain 24 jam sehari, kebanyakkan masa dia tengok TV ja. Dari baby, Ami selalu pasangkan CD untuk Amir tengok. Walaupun masa tu Amir tak lah berapa tengok dan mommy sedikit skeptic ;p Namun Baba masih gigih pasangkan CD untuk Amir hari-hari. Kalau hari bekerja, sampai ja rumah baba akan terus pasang CD Amir. Yup, baba lah orangnya. Today we can tell that we are happy with his effort. Banyak vocab yg Amir belajar dari apa yang dia tonton dari CD. CD yang ada sekarang pun dia dah hafal kebanyakkannya, belum keluar gambar dia dah sebut. Mommy yang tecari-cari 'mana ada horse kat sini' Hehehe.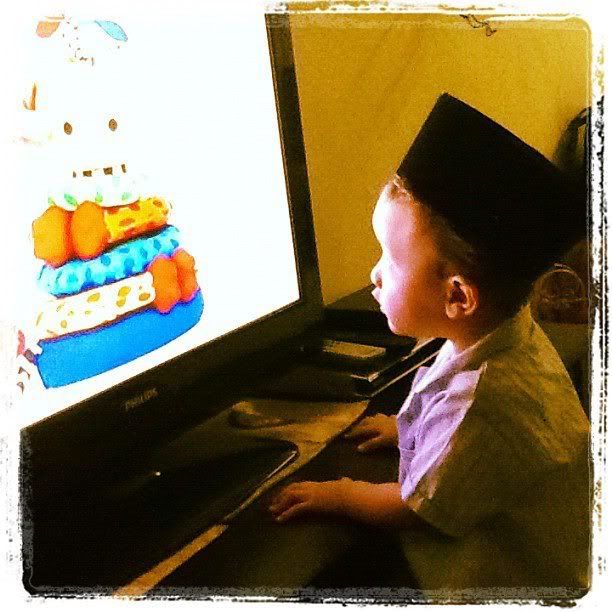 Tapi dah habis 1 CD dia pun mula lah tarik tangan ajak main kat luar. Huhuhu.
Kaki Karaoke. ?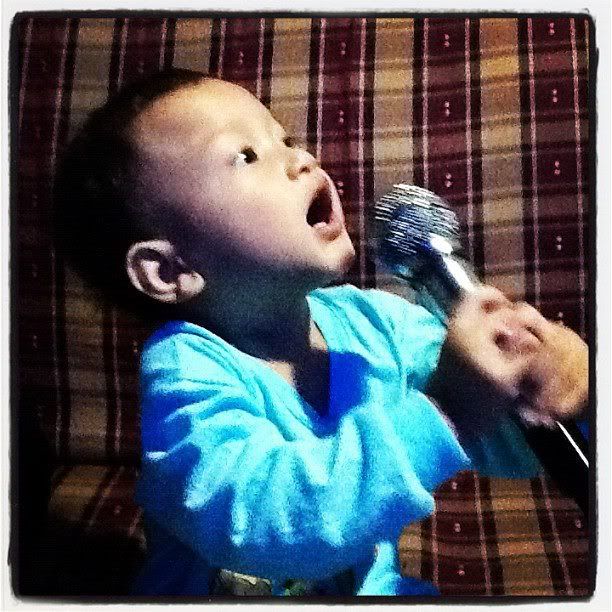 Kali pertama bawak Amir pergi karaoke, dia pelik tengok mic aje. Paling kuat pun dia pegang mic taruk dekat dengan mulut. Kali kedua pergi dia dah tau nak buat apa - nyanyi lagu Aaaaaaa.. Kalau time part mommy nyanyi Uuuuuuu dia pun Uuuuuuu jugak. Ghasak lah. Dapat jugak mommy and baba lepas gian karaoke walaupun bukan kaki sangat.
Amir is who's bestfriend?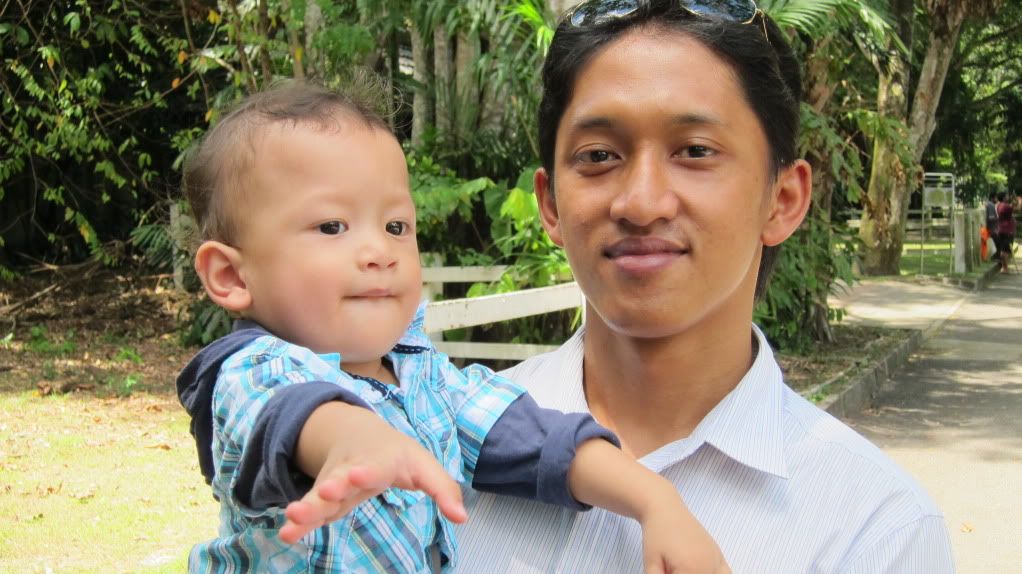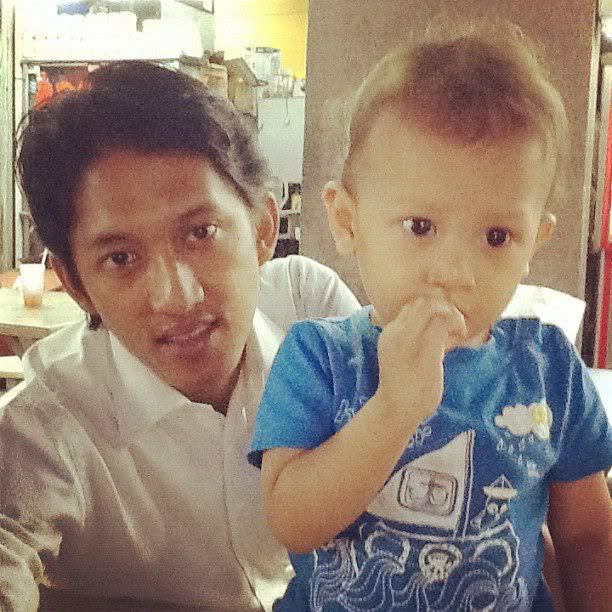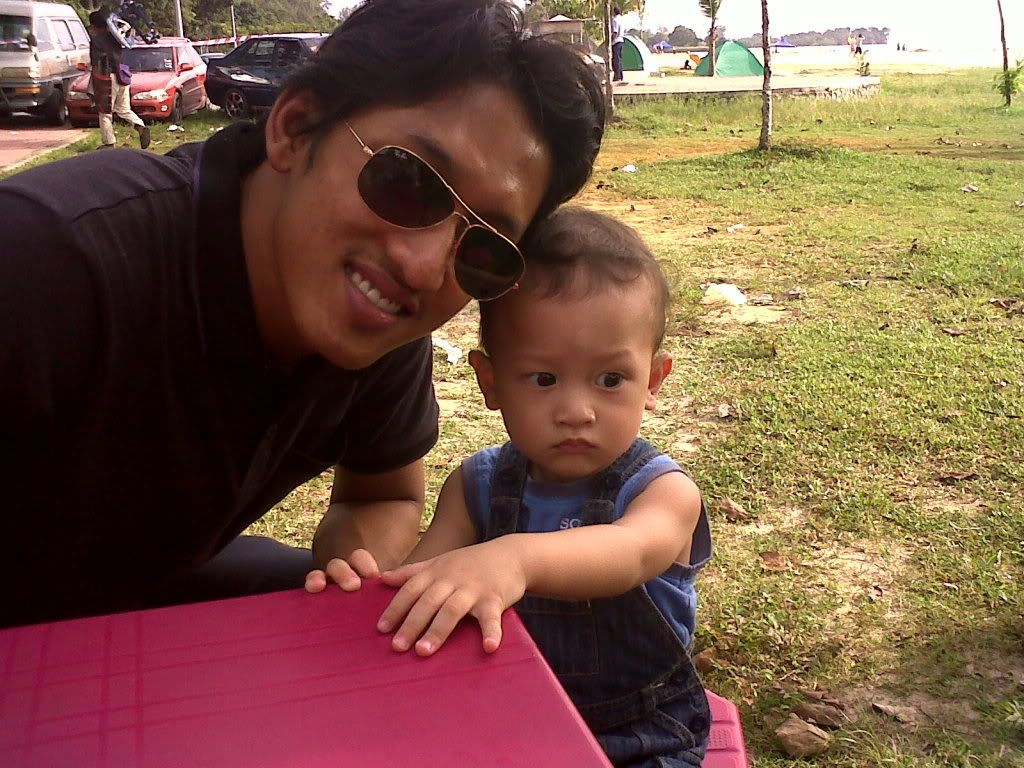 Baba
SALAH!!!!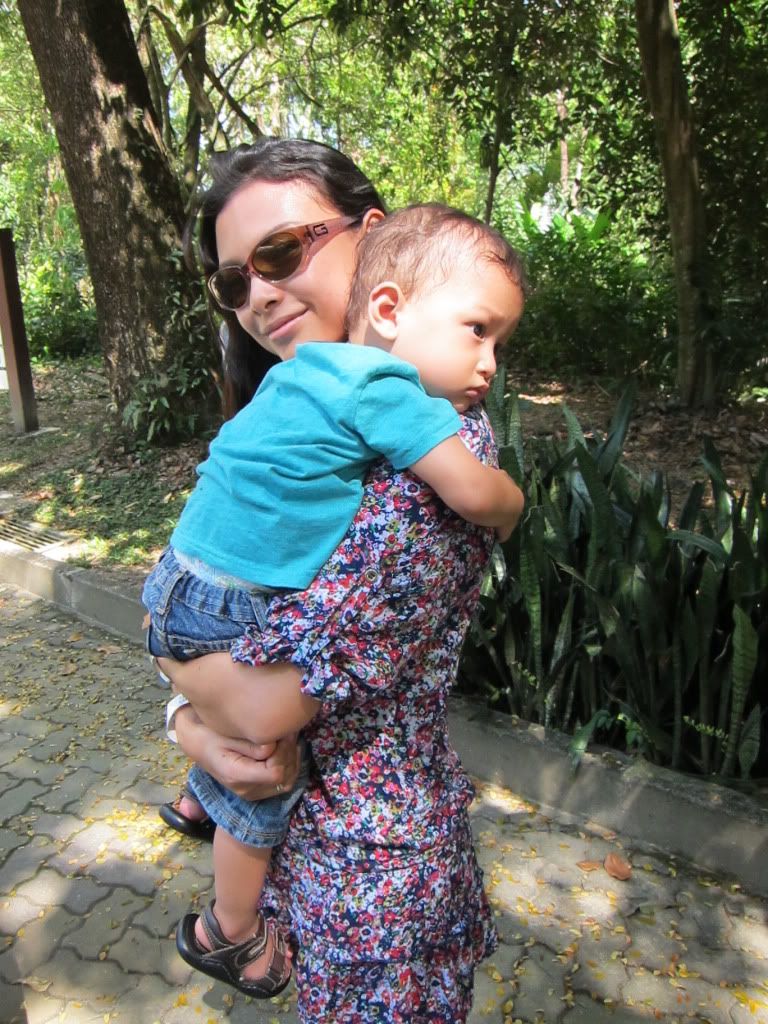 Mommy's bestfriend!!
Haish la Amir, dah makin besar. U're no longer a baby. Rindu masa Amir kecil, so helpless and always needs mommy. Sekarang mommy yang helpless. Begging you suruh duduk diam kejap for 5 minutes, ajak tidur bila dah pukul 10, pesan jangan kick bola kuat-kuat kalau tidak jauh tu nak ambil, pujuk Amir suruh jalan sendiri sebab nak patah tangan dukung Amir sekarang ni.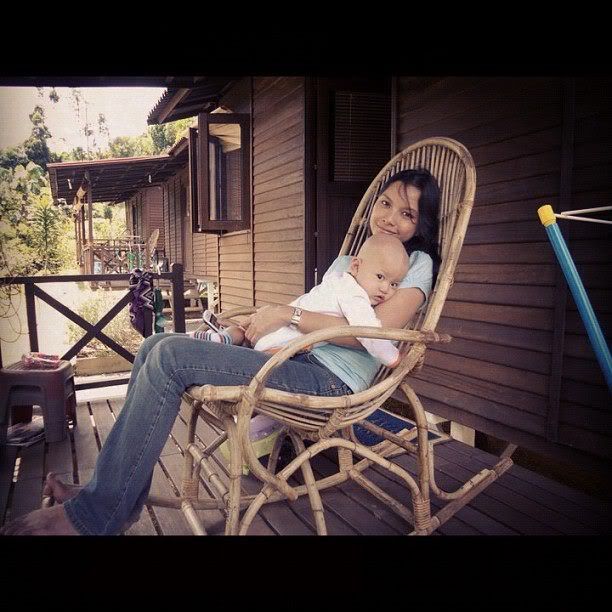 My baby
Mommy nak Amir besar tapi janganlah cepat sangat. Nanti Amir dah pandai naik motor sendiri..
Dah tidur sendiri...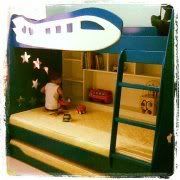 Jangan lupakan mommy ye. Tsk. Tsk.