Wuhuu Litt Tak warehouse sale kembali lagi!
Last June, diorang ada buat.. for the first time I pergi, memang berbaloi. Brand yang dia bawa bukan macam kat toysrus tapi brand yang selalu ada kat Jusco. Harga jauh lebih murah, of course.
Last june punya cerita Litt Tak warehouse sale,
di sini....
Summary:
Litt Tak
is having its
Branded Toys Warehouse Sale
now. Brands that offered are
Takara Tomy , Mask Rider , Bandai , Power Ranger , Gundam , Ultraman , Thomas , Pla Rail , Nohohon
and many more. Get the #75316 RX-0 Unicorn Gundam 02 Banshee at RM188 only ( n.p. RM329.90 ). While stocks last. Terms and conditions apply. Please go and check it out now.
Date: from 6th December 2012 to 9th December 2012 ( 9am to 6pm )
Venue:
No 6, Jalan 4/118B, Desa Tun Razak, Cheras, Kuala Lumpur (Bersebelahan Puspakom)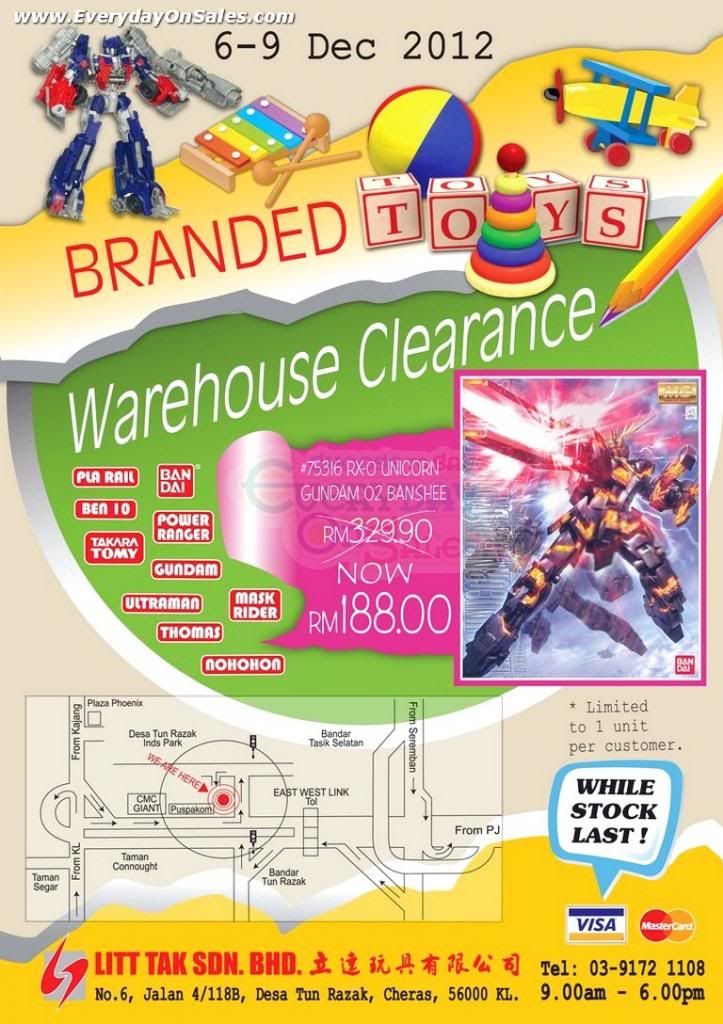 *Tapi toys made from kayu tu takde pulak nampak tadi, if ada sure ambil.
*Untuk budak tak berapa kecil yang suka robot-robot brand Ban Dai tu, memang berbaloi kalau beli kat sini.
Kalau warehouse sale or expo yang I rasa berbaloi untuk pergi dan memang sedang mencari sesuatu yang confirm ada kat situ, maka pagi-pagi lagi dah terpacak kat situ ;p Tak ramai orang, boleh setelkan cepat urusan membeli. Sejam dah setel.

Kalini, memang dah aim certain toys. Since beli starter Thomas and Friends haritu, for only RM30... Baba Amir, ye baba dia... selalu eyeing on the extension set kat Jusco and other place, of course le ratus-ratus. Nasib baik isteri dia sabarkan dia sebab tunggu sale ni..
Now, ini dia .......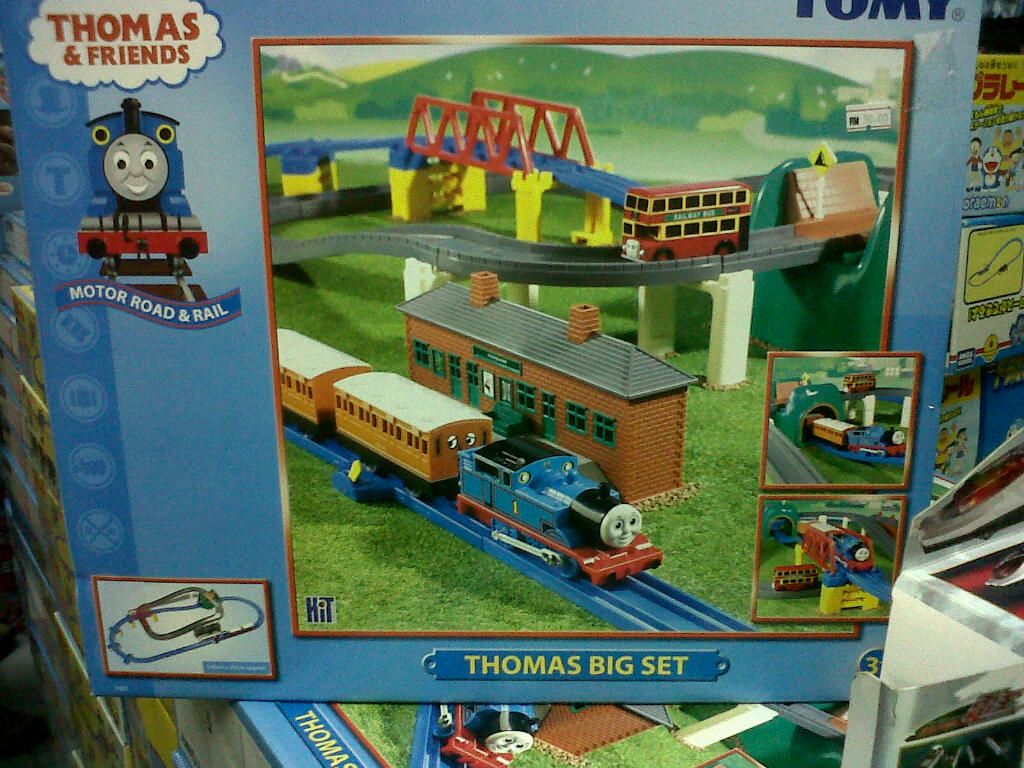 Thomas & Friends Big Set for only RM90
Selalunya belikan Amir educational toys aje, now mommy belikan set Ben 10. Biarlah Amir menjadi budak lelaki sejati ;p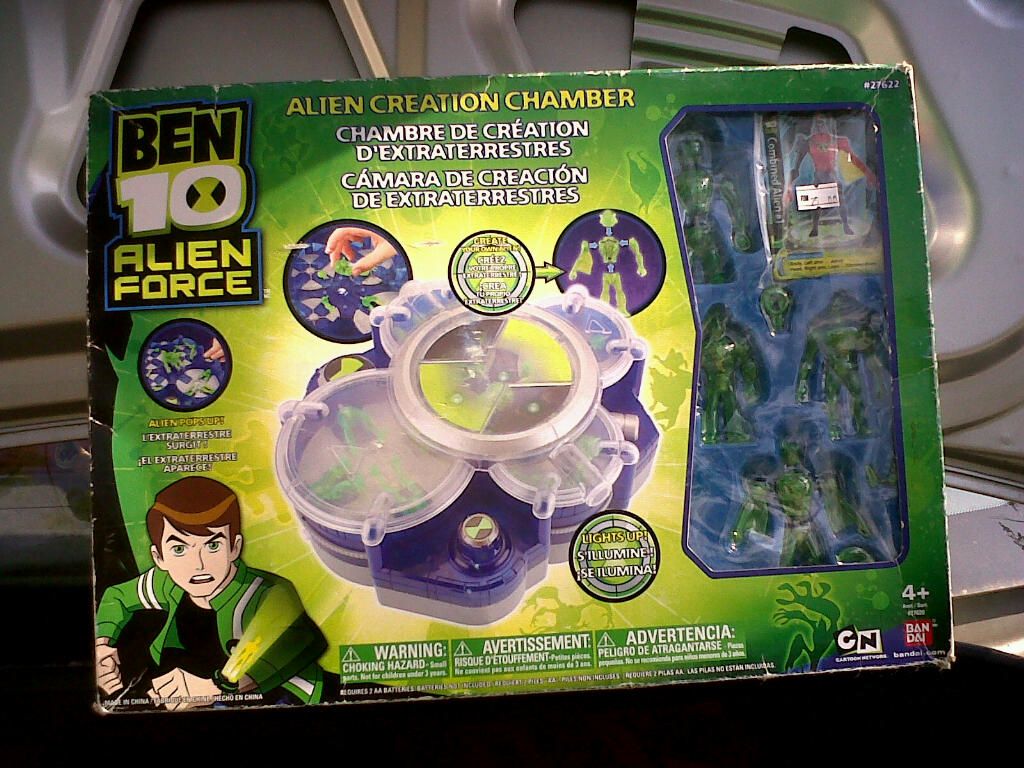 RM25

Educational toy again.. Hehehehe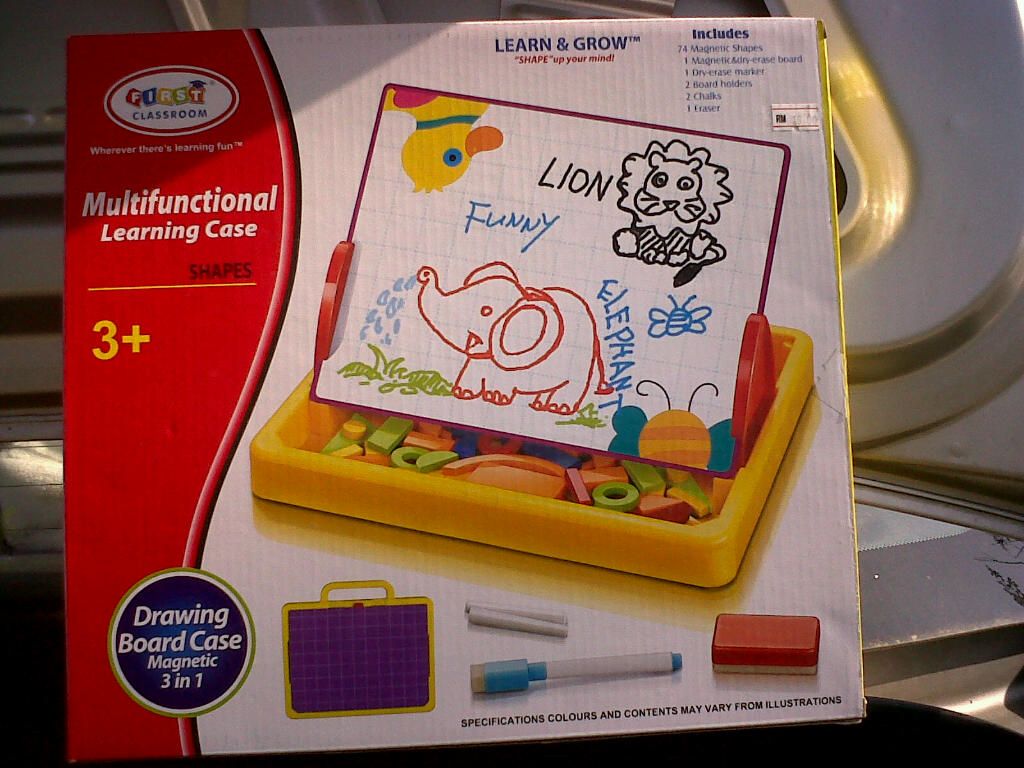 Multifunctional learning case. RM16

Toy wajib, football game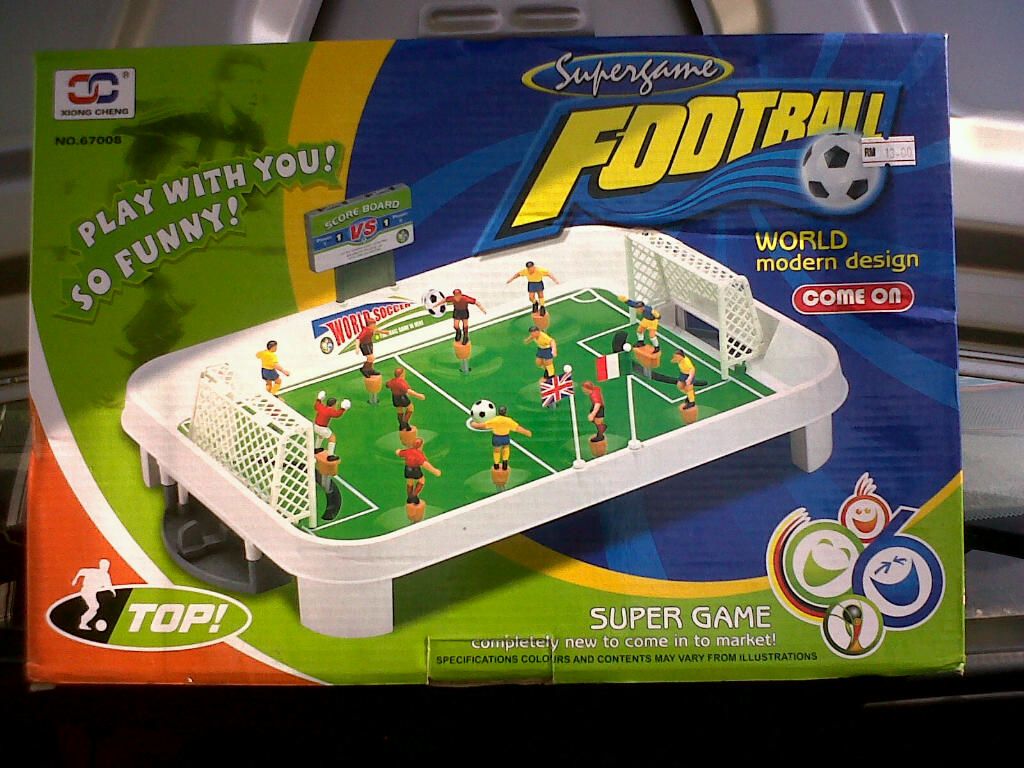 RM13 sahaja. Aduhai, cannot ressit kan.
Masa nak bayar nampak pulak truck comel-comel ni, RM5. Hmm.. sebat le apa lagi.
Last but not least, dari haritu teringin nak belikan Amir soft toy.. Tak pernah ada patung2 untuk develop rasa penyayang, bertanggungjawab... Ceh! Okay, giraffe ni RM13 aje sebab tu saya ambil.
Kalau kat Ikea benda macam ni, and this size... RM29 ke atas ye..
Nah, malam ni Amir tidur dengan giraffe ye :)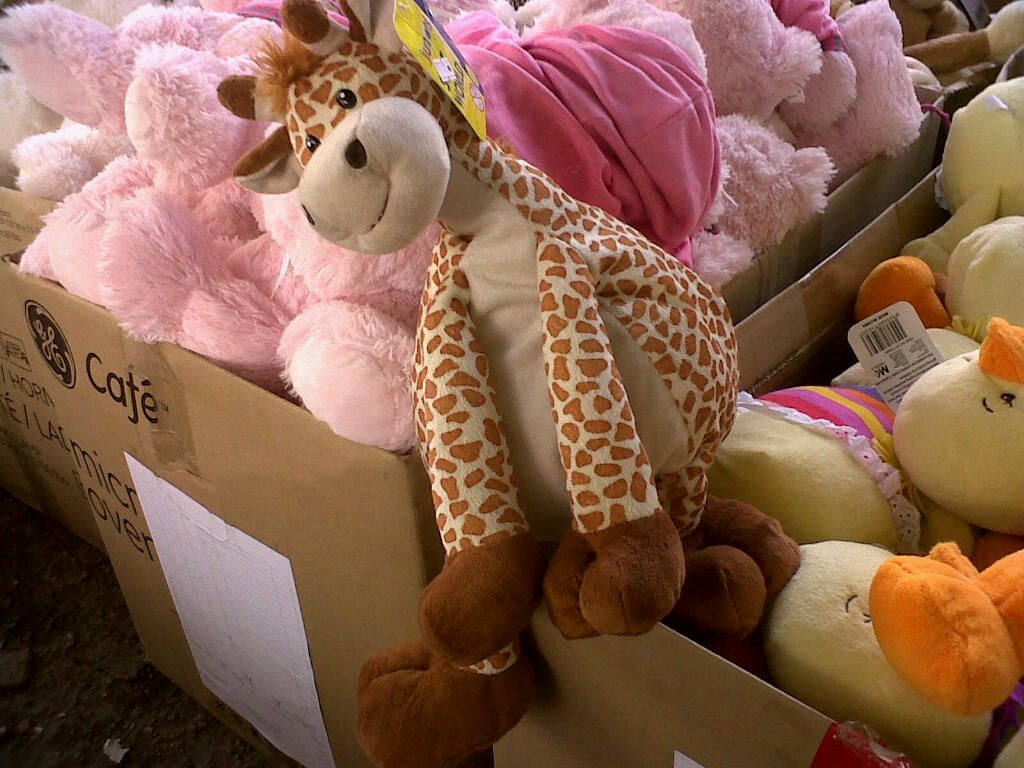 Selain giraffe ni ada bear.. tiger.. lion... elephant... haish rasa nak buat collection. Price range RM13-14. Kalau besar lagi RM40. Okay la not bad.
Others....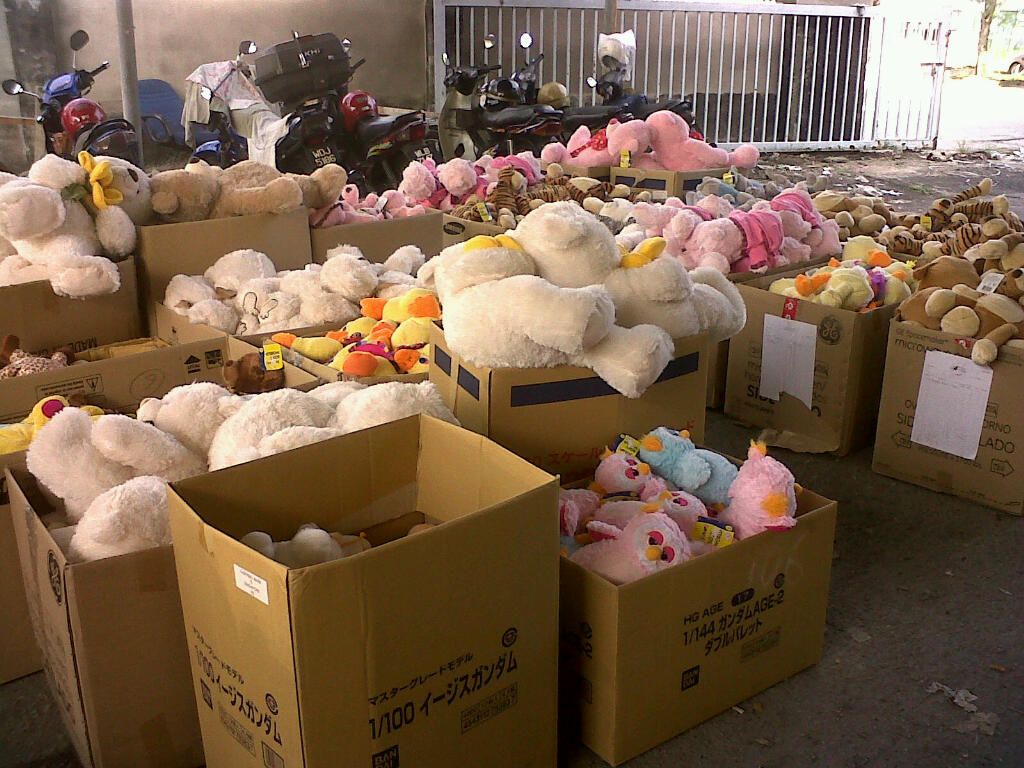 Selain toys di atas, ada banyak untuk girl. Doll house, doll nya sendiri.. ada laundry set (RM20) and many more. Harga dalam puluh-puluh. Kalau toy yang kecik-kecik sikit, belas-belas aje.. RM10 pun ada. Kereta control ada.. bricks ada.. Sangat berbaloi.
Amir memang suka main toys so rasanya berbaloi kalau beli time warehouse sale ni.
Anyway, a heads-up... Kalau u all ingat, I selalu pergi warehouse sale for barang baby di CMC, Giant Taman Connaught. It's coming it's way next Friday! Kalini nak tengok2 barang baby and toys Amir jugak sebab dia bawa brand
Vtech
. Kalau dekat toysrus, harga dia RM60 sampai le ratus-ratus.. dekat sale ni, confirm discount up to 70%. And vtech memang salah satu brand yang buat educational toys selain playskool, elc etc. Educational toys lagi! Hahaha Dalam setahun, diorang selaunya buat 2 kali, mid and end of the year. Hmmm try retrive old post regarding to my visits to that warehouse sale takde pulak.. Okay takpe, next week I review.. InsyaAllah, kalau ada peluang untuk pergi :)