*Sorry Amir, you're not in the limelight today.
A good friend
Pertama kali bersua muka di padang KUSTEM. Ami main basketball, saya main netball. Walaupun sudah perasan, ada sorang mamat ni sedang usya tapi haruslah saya jual mahal. Mana la tak perasan, bila tiba-tiba mamat yang tak dikenali sokong team netball kita. Siap mention 'Center Hijau! Center Hijau!' He's cute. LOL.
Malamnya, saya dan kawan-kawan pergi minum di kedai depan asrama. Mungkin sebab saya tahu mamat tu kerja part-time jadi waiter kat kedai Cik Ani ;p Lepas dia mintak order, dan hantar minuman. Dia datang balik, untuk mintak no telefon. Tapi dia kata 'Kawan saya mintak no telefon semua orang' Adekah termasuk no phone Daoh (Firdaus) sekali, since dia pun duduk kat table tu?
Sejak malam itu, kami pun jadi kawan hehe Kawan je? Sebab masatu kami berdua dah ada gf/bf la konnonye. Cinta tiga segi.
A drive-me-crazy boyfriend!
Mula-mula bercinta semuanya indah, apa yang tak indah kan waktu mula-mula. Lepas beberapa bulan, bukan tak indah tapi thrill.. Baru terasa now u know love requires patience and commitment. But we enjoy the learning process. Baru saya tahu, boyfriend saya ni susah nak bangun. Banyak kali merajuk sebab dia lambat hehehehe So funny! Sampaikan pergi depan rumah dia, call phone.. kita yang kat luar pun dengar bunyi handphone Nokia banana dia, dia tetap tak bangun. After so many times kena melalui proses ni, bila ada appointment pagi dengan girlfriend dia, Ami pun stay up sampai ke pagi. Dia takut kalau dia tidur dia tak bangun, u know.. it's beyond his control ;p
Walaupun Ami tak lambat, tapi he physically nampak penat sgt sebab tak tido kan.. kadang2 kalau teman saya pergi cari barang, sambil berdiri pun dia boleh tido :) Kalau naik bus, tak sempat borak dia dah tertido.
Dan Ami ialah seorang boyfriend yang suka bawak buku pergi dating. Kita ingatkan perempuan lain aja boleh buat kita jeles, buka tebal dia tu annoying jugak rupanya. Pantang kita senyap beberapa saat, dia dah selak buku. Sebab tu bila dating, I have to make sure I have enough topics to talk about.
Selain tu, Ami jenis tak banyak cakap. Very secretive. Kadang-kadang tak tau apa yang dia fikir. Selalu bergaduh sebab kami tak communicate effectively. Obviously, kalau bergaduh tu disebabkan salah faham semata. Oleh itu, Ami belikan 'buku biru' - a blue diary. He's damn good in writing. Which I rasa tak aci lah, sebab selalu cair bila baca apa dia tulis. Sedangkan kalau 'gaduh mulut', saya ada chance untuk menang. So buku biru tu adalah medium untuk kami communicate things yang susah kita nak express masa face-to-face. It really helped. Bila gaduh je, baca buku biru it reminds me, hey he loves u much!
Another book yang Ami suggest untuk baca, Men are from Mars, Women are from Venus. Tulah ingat umur 20 tahun dah cukup besar nak bercinta kan ;p Then barulah faham lelaki ni macamana. Lagi satu bahan bacaan masa bergaduh, kalau tidak Ami lah jadi mangsa baca sms yang tak henti-henti ;p
Masa bercinta itulah antara issue yang tak tau la macamana nak cope masa tu hehehe.. selalu lambat, susah bangun, susah bercakap.. ;p But that's what made him unique for me. Walaupun tak romantic but he's different. Entahla memang tak tau nak describe macamana in words. Kalau saya banyak membaca mesti terjumpa perkataan yang sesuai.
Understanding Husband
Character Ami yang ini merupakan faktor utama yang menjadikan kami seperti kami hari ini. Ami tidak bossy, tidak mendominasi relationship. Ami sangat open towards my opinions and decisions. Contrary, character isteri Amir is totally opposite - well bukan saya nak mendominasi (Tak nak mengaku jugak!) cuma I'm type of person yang firm about my decision and what I know best for me and loved ones. Dan susah nak ubah fikiran. Hmmphh. Ami memang suka beralah. Masa bercinta dulu I'm like the queen, bila dah kahwin Ami lebih strict he he he padan muka I! Tapi saya juga prefer begitu. Pernah jugak kena marah oleh Ami hu hu hu :)
Loving Father
U know what, Ami ni rasanya jarang main-main dengan kids. Masa kitaorg kahwin, dia baru ada seorang anak buah. Itupun jarang jumpa. So tak dapat nak bayangkan macamana lah agaknya dia melayan anak dia nanti. Walaupun mungkin tak pernah dukung baby, tapi bila dukung anak sendiri for the first time tu okay aje. Cuma, kalau nak pass Amir kat dia, dia kena get ready tangan dulu.. buat gaya mendukung, then baru lah letak Amir atas tangan yang dah ready tu.
Bila depan kita, Ami tak banyak pun mengagah Amir. Tapi kadang-kadang I curi-curi dengar dari dalam bilik air, bila Ami jaga Amir sorang-sorang, hi hi hi kelakar jugak. Masa Amir baby dulu kan susah nak gelak, the only thing yang boleh buat dia gelak ialah sneezing. So itu aje la modal dari awal I mandi sampai ke sudah ;p
Ami sangat concern pasal brain and physical development Amir. Itu cara dia manjakan Amir. Dari Amir baby, he bought Baby Einstein CDs. Walaupun masa tu I doubt jugak boleh ke baby ni focus tengok TV and absorb apa yang dia nampak on the screen. Well, memang betul iye. Kalau Amir tengok his CDs sekarang sangatlah fokus, panggil berapa kali pun tak pandang. Atau sekurang-kurangnya dia jeling aje. His father's trait.
Ami yang selalunya habiskan masa baca semua description educational toys kat Toysrus atau ELC. Emak Amir grab mana yang comel aje. Kose mak fikir lama-lama sangat, kalau dia jual tu mesti dah bagus lah tu ;p Ami selalu spend masa main flash card la, ajar main iPad's apps, download segala apps yang boleh benefit Amir, nanti adalah justification kenapa apps tu bagus - mak iyekan aje, kalau dia yang buat tu memang iye bagus lah he he he
Kadang-kadang bila main dengan Amir, noticed dia ada vocab baru ke skill baru ke.. bila tanya Ami, ha ah dia yang ngajor. Thanks sayang!
Alhamdulillah kami masih bersama sehingga ke hari ini. Suatu masa dulu, hampir setahun kami tidak ada 'special relationship' gara-gara distance and distrust. I could not ever imagine if I were or he was with someone else. But we both make up after break up.
Now, boleh lah kami terus merealisasikan bual-bual kosong kami masa bercinta 9 tahun yang dulu....
Sambung PhD....
Berapa orang anak kami mahu ....
Ami nak ajar anak kami main football, basketball, swimming ...
Travel bersama-sama .......
And of course, to grow old together.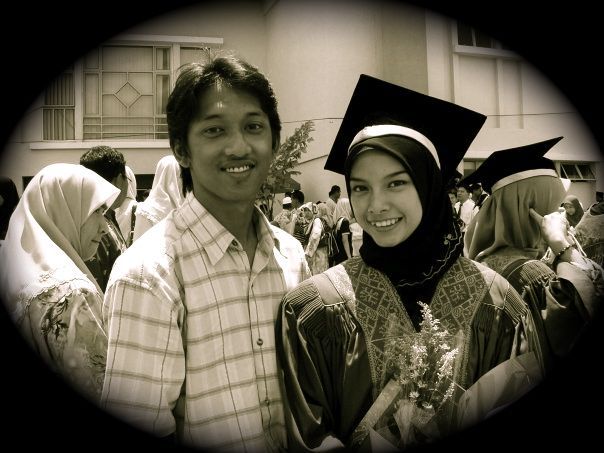 2006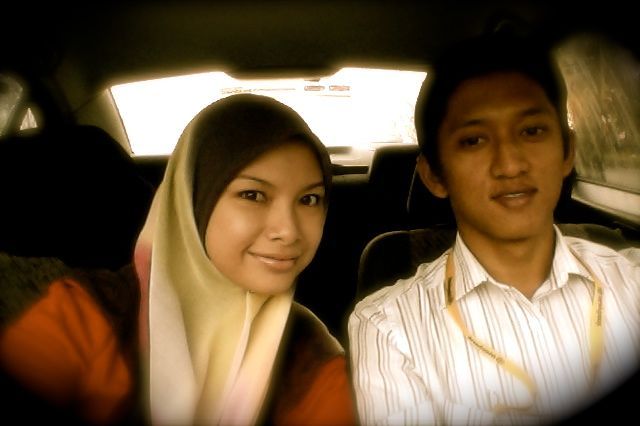 2012
[8th Anniversary story,
here
]
Much love,
Yaya